Lexar, a leading global brand of flash memory products, today announced new Lexar Professional 400x CompactFlash (CF) card capacities, including the industry's first 256 GB memory card. Also available in 64 GB and 128 GB capacities, the increased capacity options provide enormous storage capabilities and impressive performance for photographers and videographers to capture large volumes of high-resolution images and high-definition video. These increased capacities also open the door for new uses in the industrial and commercial markets where higher capacity hard disk drives have previously been used.
The new Lexar Professional CF card capacities are speed rated at 400x and provide a minimum guaranteed transfer speed of 60 MB per second, allowing professionals and advanced photo and video enthusiasts to enjoy extended capture of 1080p full-HD video and sustained, rapid-fire shooting. When paired with UDMA 7-compatible devices, like the Lexar Professional USB 3.0 Dual-Slot Reader, the new Professional 400x CF card capacities provide rapid transfer of content from card to computer, significantly accelerating the digital workflow and enabling photographers to spend more time creating and less time waiting.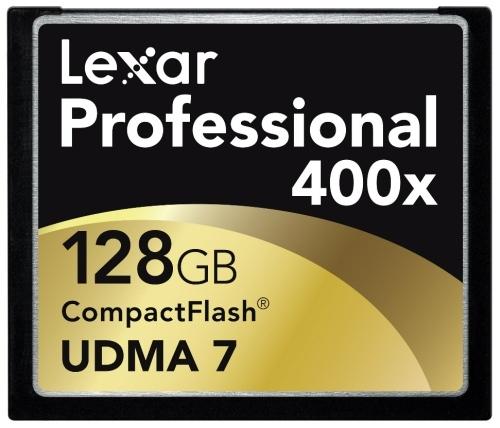 "With enhanced quality available now in the HD video format, I know just how quickly memory space can disappear! My work style is fast and spontaneous and storage capacity is a big issue for me. Having the freedom to keep shooting without having to stop to change cards helps my creative flow tremendously," said Scott Duncan, Lexar Elite Photographer. "Lexar Professional cards have always given me the large capacities I need to focus on my shooting, and the performance I require to get my footage onto my computer for editing."
All Lexar product designs undergo extensive testing in the Lexar Quality Labs to ensure performance, quality, compatibility, and reliability with more than 800 intended digital devices.
"More professional photographers and enthusiasts are embracing the fact that they can capture high-quality images and HD video with their digital SLR. As a result, they're shooting longer and longer, and need a storage solution that won't interrupt the creative process," said Manisha Sharma, director of product marketing for cards, Lexar. "The new capacities of the Lexar Professional 400x CF card empower photographers to just keep shooting, without the need to change cards or risk missing once-in-a-lifetime shots or footage."
The Lexar Professional 400x CF card includes a free copy of the latest version of award-winning Image Rescue software, worth $33.99, to help recover lost or deleted photos and videos, even if they have been erased or the card has been corrupted. Additionally, the Lexar Professional 400x CF card comes with a limited lifetime warranty and free, dedicated professional technical support.
The new 64 GB and 128 GB capacities of the Lexar Professional 400x CF memory card will be available in January, with MSRPs of $299.99, and $469.99 respectively. Lexar is currently sampling the 256 GB capacity of the Professional 400x CF memory card to commercial and industrial customers, as well as strategic imaging industry partners, to assure compatibility and reliability with current and future applications. The 256 GB Lexar Professional 400x CF card is expected to be released for consumer purchase in the first half of 2012.
Last updated: Apr 7, 2020 at 12:06 pm CDT