Taoyuan, Taiwan , November 2011 - In-Win Development Inc, a leading innovator in high-quality, contemporary PC hardware and multiple winner of the internationally renowned Red-Dot Design Award, has today launched its new performance PC chassis, the BUC 101.
Its strength of design is echoed across both its boldly shaped exterior, high quality SECC steel construction and a hard-wearing black interior. With a striking expression and fantastic feature-set that includes support for multiple 300mm (11.8") graphics cards, it will perfectly suit any gamer.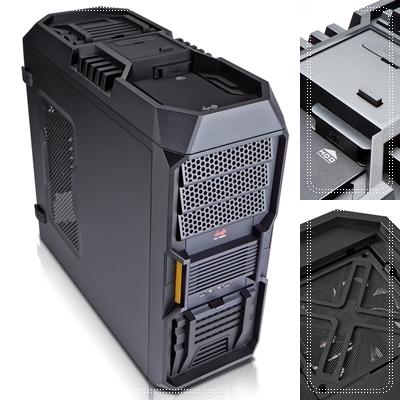 The BUC 101's innovations include support for versatile 2.5" and 3.5" hard drive/SSD brackets with vibration reduction and easy access functionality.
Two USB 3.0 internal take advantage of the latest motherboard designs and provide native high-performance connectivity, while the excellent cable routing, cooling design and tool-free use make it an ideal builders box.
With an integrated HDD spot on the top, an external drive can be added for quick backups without even opening the case or sourcing extra cables; and when not in use this area doubles up as a storage space for keys and a mobile phone.
Finally, three integrated 120mm silent fans with magnetic fan filters and several extra fan positions give it excellent cooling potential for even the latest high-performance platform combinations from Intel, AMD and Nvidia.
With core design innovations and high quality of construction, the In-Win BUC 101 chassis is a great choice for PC gamers worldwide.
About In Win
IN WIN Development Inc., an ISO 9001 manufacturer of professional computer chassis, server chassis, power supplies and storage devices, is the leading provider of enclosure solutions to system integrators worldwide. Founded in 1985, IN-WIN provides high quality product that conform to all safety regulations, as well as unsurpassed customer service. Our slogan "Contemporary and Innovative" serves as the foundation of not only our product development but also our attitudes in serving and catering to our strategic partner's wishes. We take the "im" out of "impossible"...
...A brand without persistence is only a name.
Last updated: Apr 7, 2020 at 12:05 pm CDT