Thermaltake, an award winning state of art PC power supplies, the leader and pioneer in PC thermal solutions, a worldwide designer and supplier of high-performance components to the PC gaming hardware market, with "delivering the perfect user experiences" as our mission, this September Thermaltake is presenting a visionary outlook of the world first efficient high-output power supply unit "The Toughpower XT Platinum & Gold series", - a rigorous power plant series aiming towards hardcore gamers, DIY enthusiasts, professionals and massive power consumption machines to fulfill every possible condition.
The new Toughpower XT Platinum & Gold series is a set of meticulous PC power plants include 1275W Platinum, 1375W Gold and 1475W Gold, are the world first high-output power supply units with 80Plus Platinum and Gold (the highest efficiency levels) certified which can perform up to 94% power efficiency.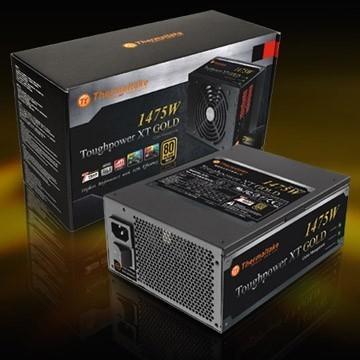 High Tech Superiority
With the proof of 80 Plus Platinum & Gold certifications, the Toughpower XT Platinum & Gold series PSUs deliver up to 94% high power efficiency and provides the high quality, reliability and true wattage power for your system. Featuring the Full Bridge and LLC resonance with DC-DC module and interleaved PFC circuit designs that provide a high reliability and efficiency. In addition, 100% 105°C Japanese electrolytic and solid capacitors deliver an unbeatable stable power and performance while the machine is constantly consuming on high wattages in every environment. Moreover, the dual +12V rails will electrify and support up to 4-way SLI and 4-way Crossfire without any dilemma.
Extra Fine Touch
The unique S.P.T indicator shows PSU status with 3-mode LED (Standby/ Power good signal/ Temperature) that checks the PSU status instantly. Besides, the built in 14cm dual ball bearing fan with three modes Smart Fan Control system ( Fanless mode, Silent mode, & Cooling mode) that automatically detects the PSU ambient temperature and adjusts fan mode & speed to create the smooth airflow and achieves the optimal thermal performance. Better yet, the Toughpower XT Platinum & Gold series PSUs equip modularized full cable management for easy customized support and various peripheral settings.
Legendary Toughpower XT Series: Unadulterated Performance
With an excellent performance, the Toughpower XT Platinum & Gold series is definitely the ultimate power supply in the market to possess for gamers to conquer all battles, DIY enthusiasts to overclock all kinds of peripherals, professionals to enjoy a smooth working environment and massive power consumption machines to run all kind of systems.
To know more about the Toughpower XT Platinum & Gold series please visit the product pages of Toughpower XT PLATINUM 1275W, Toughpower XT GOLD 1375W, and Toughpower XT GOLD 1475W.
Last updated: Apr 7, 2020 at 12:05 pm CDT