As an industry leader in making holders and mounts for iPhones and iPads, LUXA2 knows how important it is to be able to enjoy your iPhone's applications and games with convenience whenever and wherever, even when you go biking or cycling! That's why LUXA2 is releasing a brand new iPhone mounting device for iPhone 3G, iPhone 3GS and iPhone 4.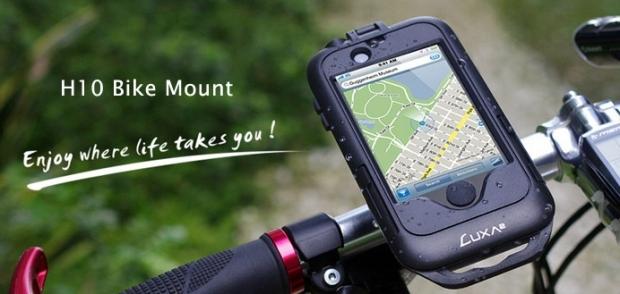 LUXA2 H10 Bike Mount is perfect for people who love sports like cycling, biking and even boating! With H10 Bike Mount, iPhone is kept safely in an IPX 4 water resistance rated case, which means that your phone with the case is all-around splash proof. You don't need to worry about your iPhone getting wet in light rains. H10 Bike Mount protects your precious device from rain, dirt, mud and other mishaps that come with a sporty lifestyle. With a specially designed anti-slip nuts and tool-less installation design, the mount stays securely on your bike when you go through unsmooth surfaces.
[img]06[/img]
Moreover, the welded, touch-sensitive membrane gives you complete access to your iPhone's awesome applications while being out enjoying a nice bike ride. Ever worried about losing your iPhone when you get to a destination? Simply detach the whole case and bring it with you or clip it to your belt with the enclosed belt clip.
LUXA H10 Bike Mount makes a bike ride more enjoyable with a splash proof case, operable screen and easy access to audio and charger ports. Get one today and check it out yourself!
About LUXA2
LUXA2, a Division of Thermaltake, was created in 2009, with characteristics of simplicity, luxury, and unique lifestyle. The core design theory of LUXA2 starts from simple shapes blending with luxury elements, which create the unique lifestyle for different segments within the society such as Creative Pro, Mobile Blogger, Leisure Seeker, Hip Newbie, Entertainment Junkie, and Apple's Mac Lovers.
LUXA2 represent an emerging trend of "individuality" in the world. Not only do people need function, but they also need aesthetic appeal. This is what LUXA2 has achieved. Exquisite craftsmanship with aesthetic and elegant design style is a promise and commitment from LUXA2. Thus, the Simplicity, Luxury and Lifestyle of LUXA2 creates a Uniquely You.
Last updated: Apr 7, 2020 at 12:05 pm CDT