MSI has introduced its new GE620DX gaming laptop, featuring the Intel second generation Core i7-2630QM quad core processor (core speeds of 2.00GHz) and nVidia's top-end GeForce GT 555M discrete graphics card. Not only does the GE620DX offer more powerful graphics performance and enhanced resolution, it supports nVidia's PhysX and Microsoft's DirectX 11 for great graphics with more detailed and convincing details, like cooler explosions and more realistic flowing water, to maximize your gaming pleasure.
Eric Kuo, associate vice president for global sales, MSI Notebook, points out that MSI's superior Premium Sound and THX TruStudio Pro wrap around sound team up to offer you the perfect combination of sound and visuals for the ultimate multimedia experience. This gaming dream machine also boasts an exterior with awesome high tech lines. The letters "MSI" are emblazoned in the center of the GE620DX' cover in luminescent white script which is set off by the metal brush finish. Not only is this machine a dream to play, it's a dream to look at, too.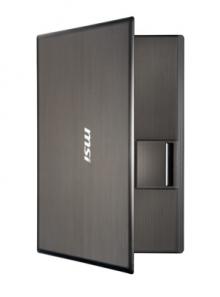 Power is the name of the game
Intel 2nd generation Core i7 quad core CPU: The GE620DX features the latest Core i7-2630QM quad core processor with core speeds of 2.00GHz. The new generation Intel Core i7 processor supports Intel Turbo Boost 2.0 and Quick Sync Video. Intel's Turbo Boost 2.0 greatly enhances performance in each core, automatically allocating processor resources to boost core clock speeds and overall computer performance, while Quick Sync Video revs up efficiency when ripping, synchronizing, and editing multimedia files.
nVidia's high end GeForce GT 555M discrete graphics card: The GE620DX packs nVidia's new generation GeForce GT 555M discrete graphics card with 2GB of display memory. The nVidia PhysX technology offers the serious gamer some seriously realistic visuals. In addition, the GE620DX supports DirectX 11 for higher resolution, allowing you to see, for example, details of distant buildings for more realistic gaming.
GPU Boost: The GE620DX laptop supports MSI GPU Boost technology which automatically switches back and forth between the discrete graphics card and the graphics chip. When your computer is processing graphics-heavy applications, it automatically kicks into the discrete graphics card mode to give you superior graphics processing capabilities and when performing general word processing tasks or browsing the Internet, it cuts to the power-sipping integrated graphics chip mode, striking the ideal balance between performance and battery life.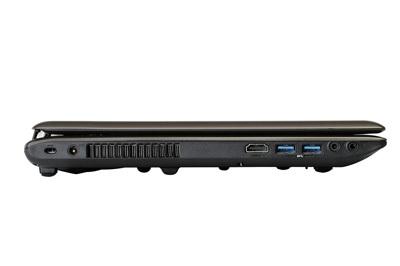 Realistic multimedia experience
Top cinema-grade sound: The GE620DX comes with MSI's Premium Sound to meet the need of even the most demanding audiophiles for crisp, clean sound. Now, you can experience sounds like you've never heard them before in an NB computer. The GE620DX also comes with THX TruStudio Pro smart surround sound technology previously found only in cinemas, which when coupled with its top-end internal speakers, reproduces any music type or frequency faithfully.
Cinema Pro technology: The GE620DX features powerful multimedia processing and MSI's own Cinema Pro technology for superior graphics. One touch of the Cinema Pro hotkey instantly switches you to film mode for higher resolution and richer colors.
Full array of HD hardware: The MSI GE620DX sports a 720p webcam to give you high definition, smooth, bright pictures when video conferencing with friends and family. If you want something bigger than a high definition computer screen to view films, it comes with an HDMI port, so any type of high-fidelity, high-definition video can be played on your NB, but viewed via a cable on a large-screen LCD TV.
Designed with you in mind
USB3.0: The GE620DX comes with new USB3.0 ports which boast transfer speeds of 4.8Gbps-10 times faster than USB2.0, and 80% higher power transmission, providing vastly higher data transfer rates and charging speeds for external hard drives, flash drives, and other handheld electronic devices.
Shortcuts to shut off power to idle hardware: Located above the GE620DX' keyboard are six shortcuts. With one click of the mouse, you can eject a DVD, turn off the screen, or turn on the S-Bar, Turbo Battery+, Cinema Pro, or power, so don't waste battery power when you're away from your computer for a few minutes.
MSI S-Bar: Just one click of the GE620DX' S-Bar hotkey calls up all functions onto the screen, so you can control everything from the webcam, projector, network, and Bluetooth to volume control, screen brightness, and standby mode.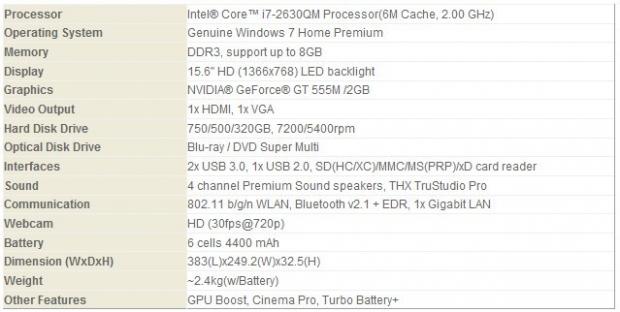 Last updated: Apr 7, 2020 at 12:05 pm CDT