Acer Iconia Tab W500 MicrosoftR WindowsR 7 Tablet Delivers Ultimate Productivity for Customers in North America
Acer Iconia Tab W500 Tablet has Docking Keyboard and is Ideal for Touch-Based Productivity, Communications; Performance Tech Includes AMD processor, SSD, HDMI, Support for 1080p HD video
SAN JOSE, Calif., April 21, 2011 - Acer America today announced that the Acer Iconia Tab W500 - a 10.1-inch tablet running MicrosoftR WindowsR 7 - is available for sale now in North America.
The Acer Iconia Tab W500 is the ultimate productivity device for anyone who wants the flexibility and mobility of a tablet with the efficiency and familiarity of a Windows PC. It's especially ideal for schools, small businesses, and for industries such as healthcare that need a tablet to be productive and stay in touch as they move around their work environment. In addition, customers can use the tablet to keep up with social networks and enjoy digital entertainment at work, at home and on the go.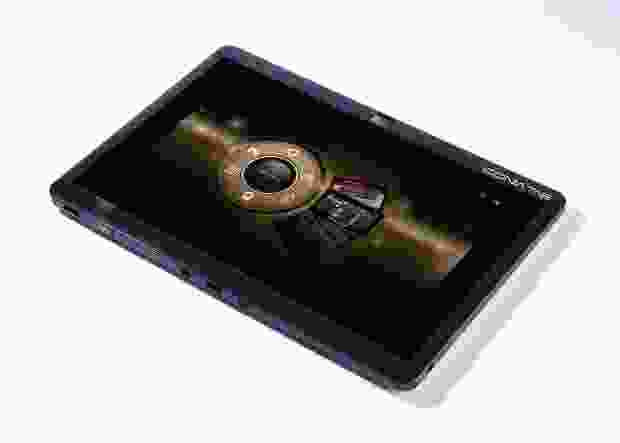 The unique design centers on the high-resolution 10.1-inch multi-touch screen. Supporting multi-touch allows customers to interact intuitively with the display to check email, access websites, use cloud-based applications, and enjoy digital media. When it's time to focus on productivity and creating content such as reports, spreadsheets and presentations, customers can get a true notebook PC experience with the system's full-size chiclet docking keyboard.
"The Acer Iconia Tab W500 is the perfect tablet for people who want the touch capabilities that are so natural and efficient on the go, but also need a Windows environment to access productivity applications for work and school," said Eric Ackerson, senior product marketing manager, Acer America.
"So much of what we're doing on the go is accessing information and consuming content in cloud-based applications, such as realtors and salespeople who need access to databases and Intranet sites. The Acer Iconia Tab W500 is the ultimate reflection of our lives - able to multitask between work and fun, and ready at a moment's notice."
"We're pleased to see Acer continue to drive innovation that delivers new, exciting computing experiences to customers," said Soren Lau, general manager of OEM Marketing, Microsoft Corporation. "The Acer Iconia Tab W500 combines the familiarity, security and portability of Windows 7 with entertainment and social connection features that allow customers to work and play on a single PC."
Innovative Design Boosts Productivity
The combination of a responsive and intuitive touch experience with a dedicated docking keyboard makes the Acer Iconia Tab W500 a productivity booster. The full-size chiclet docking keyboard easily connects to the tablet via USB, holding it up at a comfortable viewing angle. The keyboard also provides docking station capabilities with extended connectivity of an Ethernet port for fast Internet connections, and a USB port for external devices. Plus, the docking keyboard features the Acer FineTrackT pointing device with two buttons for convenient navigation.
When it's time to transport the Acer Iconia Tab W500, the tablet deftly connects to the docking keyboard with quick-linking magnets, transforming it into an easy-to-store clamshell notebook. It easily fits in a briefcase or book bag. If users want to minimize travel weight, they can simply leave the keyboard behind; the tablet weighs only 2.14 pounds and measures 10.83(W) x
7.48(D) x 0.63(H) inches. The additional docking keyboard weighs 1.34 pounds and measures 10.83(W) x 7.48(D) x 0.43-0.77(H) inches.
The embedded Acer PowerSmart long-life 3260 mAh Li-polymer battery pack delivers up to four hours of unplugged HD video playback and six hours of Internet browsing.(1)
Configurations, Availability and Pricing
The Acer Iconia Tab W500 is available in two models; the W500-BZ467 with WindowsR 7 Home Premium has a Manufacturer's Suggested Retail Price (MSRP) of $549.99, while the W500P-BZ841 with WindowsR 7 Professional has a MSRP of $619.00. Both models are ready to be used for productivity and creation with MicrosoftR Office Starter 2010 and are now available for sale at select retailers and channel partners in the United States.
The Aspire Iconia Tab W500-BZ607 with WindowsR 7 Home Premium is available at select retailers and channel partners in Canada for a MSRP of $599 CAD.
The Aspire Iconia Tab W500P-BZ412 with WindowsR 7 Professional has a MSRP of $649.00 CAD and will be available in the channel by end of June.
Meaningful Communication with Video, Voice, Internet
Staying in touch on the go is easy with the Acer Iconia Tab W500. Customers can connect to Wi-Fi networks with reliable Acer InviLink Nplify 802.11a/b/g/n Wi-Fi CERTIFIED wireless technology at home and on the go for Internet access, checking email, and staying current on everything from news and blog sites to their Twitter feed. They also have Bluetooth to connect to printers, keyboards and other Bluetooth devices.
Two Acer Crystal Eye 1.3MP webcams - one each on the front and back of the device - used with Acer Video Conference Manager, let customers engage in video conferencing, as well as record HD videos and then quickly share them on Facebook, YouTube and other sites. The tablet also delivers excellent audio with Acer PureZone technology with two built-in stereo microphones, featuring beam forming, echo cancellation, and noise suppression technologies
Entertainment and Fun on the Go with Latest Technology
Work seamlessly blends into entertainment in so many ways today, and the Acer Iconia Tab W500 can be used to handle productivity and fun simultaneously. Powered by an AMD C-50 processor and supported by 2GB of
DDR3 memory, the tablet delivers fast and reliable mobile performance. It also boasts integrated ATI Radeon HD 6250 graphics for realistic, crisp visuals on movies, web video and games. It also supports Adobe Flash and comes installed with Adobe Flash 10.1.
The tablet is ready to play back high definition Internet content and 1080p video on the high resolution 1280x800 LED-backlit display. Plus, sound is vibrant and clear with DolbyR advanced audio v2. The models come with a 32GB solid state drive,(2) which provides incredibly fast data access while reducing weight and noise. The SD card reader can support SD cards up to 32GB in capacity.(2)
The ambient light sensor on the Acer Iconia Tab W500 allows it to be used in a range of environments. The integrated accelerometer provides auto-rotation between portrait and landscape modes for viewing presentations, documents, websites, movies, games and more in the most appropriate orientation.
Acer Ring Elevates Intuitive Touch Experience Like all Acer Iconia products, the core of the Acer Iconia Tab W500 touch experience is the Acer Ring. Easy to launch with a simple grab gesture, it offers immediate access to special features and touch applications. By placing five fingers in a circular pattern, the Acer Ring appears to let consumers surf the web, capture screen images, post photos and status updates, watch movies and more, all in the manner most comfortable and natural to them.
Utilities in the Acer Ring include Clean Disk to manage and optimize disk space; Snipping Tool to quickly select, tag, and clip screen images; Device Control to fine-tune the tablet settings; Camera to launch Acer Crystal Eye Webcam; Calculator and Games.
The Acer Ring also features a series of AppCards that enhance everyday usage:
. TouchBrowser provides a touch-optimized browsing experience to let
customers search for, open, resize, and select content from the web.
. SocialJogger connects three of the most popular social networking
sites - Flickr, Facebook, and YouTube - in a single interface so that customers can connect with and update their networks holistically.
. My Journal lets customers collect web clips that are dynamically
updated to stay posted posted on news of interest.
. Scrapbook is a convenient place to store, annotate and share website
and photo images and other content.
. TouchPhoto, TouchMusic and TouchVideo provide direct access to
multimedia files stored on the tablet.
clear.fi for Digital Media Sharing
Acer clear.fi is the digital media sharing system that lets customers enjoy their digital media content across their home quickly and effortlessly.
Clear.fi automatically connects all Acer devices on a network (smartphones, notebooks, desktops, HD media players and storage devices) and then gathers and organizes media files by type (video, music, photo, pre-recorded TV).
Users can browse the categories and then drag and drop the media to any of the connected PCs or devices for playback. The HDMI port with HDCP support ensures a single cable for true HD audio and video output.
About Acer
Since its founding in 1976, Acer has achieved the goal of breaking the barriers between people and technology. Globally, Acer ranks No. 2 for total PCs and notebooks.(3) A profitable and sustainable Channel Business Model is instrumental to the company's continuing growth, while its multi-brand approach effectively integrates Acer, Gateway, Packard Bell, and eMachines brands in worldwide markets. Acer strives to design environmentally friendly products and establish a green supply chain through collaboration with suppliers. Acer is proud to be a Worldwide Partner of the Olympic Movement, including the Vancouver 2010 Olympic Winter Games and London 2012 Olympic Games. The Acer Group employs 8,000 people worldwide. Revenues for 2010 reached US$19.9 billion. See www.acer-group.com for more information.
Last updated: Apr 7, 2020 at 12:04 pm CDT
PRICING: You can find products similar to this one for sale below.

United States: Find other tech and computer products like this over at Amazon.com

United Kingdom: Find other tech and computer products like this over at Amazon.co.uk

Australia: Find other tech and computer products like this over at Amazon.com.au

Canada: Find other tech and computer products like this over at Amazon.ca

Deutschland: Finde andere Technik- und Computerprodukte wie dieses auf Amazon.de
Related Tags