• Dual-Graphics Technology for Visually Stunning Experiences
• Wireless HD for Latency-Free HD Video Streaming to Larger Screens
• HDMI Connections for Lifelike 3D Gaming
Sydney, Australia, April 20, 2011 - Alienware is redefining mobile gaming - again - with three new, all-powerful laptops. The new range includes the soon to be released M18x, which lays claim to the title of "most powerful 18-inch gaming laptop in the universe;" the M14x, which delivers unprecedented performance and portability; and an enhanced M11x, already a favourite among gaming enthusiasts, and the most-powerful sub-14-inch notebook in the universe.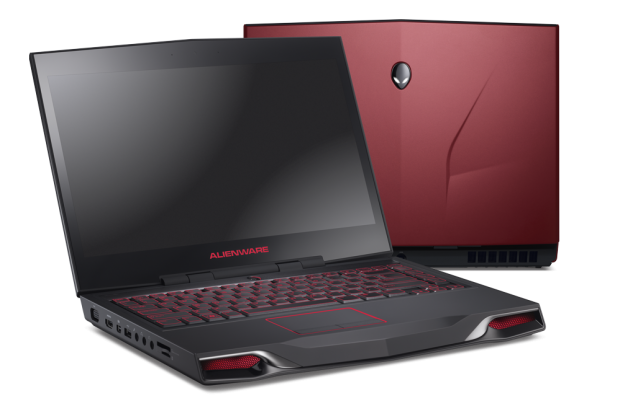 The two new faces in the Alienware laptop family, the upcoming M18x and the M14x, along with the new M11x, deliver unprecedented power to the gamer on the go. All three platforms offer the latest in gaming technology, and feature second-generation Intel Core i processors to deliver the most immersive high-performance gaming experience imaginable. In particular:
• The M18x will offer dual-graphics technology and the industry's only Intel Core i7 Extreme CPU option factory overclocked to 4GHz;
• The M18x and the M14x offer optional wireless HD audio and video for latency-free streaming to larger screens; and
• All three laptops also offer HDMI 1.4 for connection to 3D-capable HDTVs for incredible, lifelike 3D gaming and SuperSpeed USB 3.0 ports for up to 10x the speed of USB 2.0 connections for a new level in data transfer.
Alienware has a rich history of innovation and delivering solutions that delight gamers and performance enthusiasts around the world. These laptops, along with the M17x announced and launched in January, represent the most-significant expansion in Alienware's portfolio in several years and arrive as the company celebrates its five-year anniversary as part of the Dell family. Since its acquisition by Dell, Alienware has expanded to provide award-winning gaming systems to a global fan base. The brand is also available at major retailers worldwide and has spawned a community site, Alienware Arena ( http:// www.alienwarearena.com ), where gamers everywhere can interact socially and compete with one another.
"If you're a gamer, you're going to love our new family of laptops, which deliver on the features gamers care most about - uncompromised graphics performance, latency-free wireless HD streaming to HDTVs, and lifelike 3D gaming," said Arthur Lewis, general manager of Alienware. "We are committed to delivering the best gaming systems for enthusiasts everywhere and we take great pride in helping them 'pwn', no matter where they are in the world."
As Alienware's flagship laptop, the M18x - which is also dubbed the "Most Powerful 18-inch Gaming Laptop in the Universe" - will be a true desktop replacement. It is perfect for gamers who want to compromise nothing for blistering frame rates and full immersion in the gaming experience. With Wireless HD and 3D options, as well as HDMI-in, the M18x allows gamers a no-holds-barred gaming machine capable of meeting even the most grueling demands of today's gamer, delivering gaming content when and where gamers need it.
For gamers seeking a mobile HD gaming experience who want a balance of performance and mobility, the new 14-inch M14x offers the best of both worlds. Weighing in at less than 3Kgs, the M14x features full-voltage Second-generation four- and two-core Intel Core i CPUs, discrete graphics and an optical disk drive. For the gaming enthusiast or anyone who needs mobile computing performance, the M14x is a mobile yet powerful option. The M14x offers updated graphics featuring the NVIDIA GeForce GT 555M with up to 3GB of graphics memory, and for the gamer on the go, optional Intel WiMAX technology to enable internet connectivity virtually anywhere.
For the truly mobile gamer, the M11x has long been a favourite, but now it's even better! New improvements to the popular M11x include second-generation Intel Core i processors with Intel Turbo Boost Technology 2.0, updated graphics featuring the NVIDIA GeForce GT 540M, and like the larger M14x, optional Intel WiMAX technology. The latest M11x also features a soft touch finish with a new Nebula Red option.
Blistering Performance
The M18x, M14x and M11x each offer blistering performance on the go. Highlights of the new M18x include:
• An 18.4-inch FHD WLED 1080p display for the best visuals possible
• Powerful Dual GPU options with the fastest graphics memory (GDDR5) on all graphics options
• Both AMD and NVIDIA graphics options, in Crossfire X and SLI, respectively
• New Intel "Huron River" Architecture with a new factory overclocked Intel Core i7 Extreme Quad Core processor up to 4GHz
• Upgradeable to up to 32GB 1333MHz memory
• HDMI/Display Port output & HDMI-in
• Wireless HD & 3D output options, delivering low-latency high-def content wirelessly or output to 3D displays
Highlights of the new M14x include:
• 14-inch WLED HD (720p) display standard (1366x768) or optional 14-inch WLED HD+ (900p) display (1600x900)
• Second-generation Overclockable Intel Core i CPUs with Intel Turbo Boost Technology 2.0
• Updated graphics featuring the NVIDIA GeForce GT 555M with up to 3GB of VRAM
• NVIDIA Optimus technology to extend battery life
• Up to 8GB of 1600MHz Extreme-Performance system memory
• HDMI 1.4 to support connectivity on HDTVs and 7.1 digital audio
• Audio powered by Klipsch (onboard speakers)
• Optional Intel WiMAX technology
And the refreshed M11x includes:
• An 11.6-inch WLED HD (720p) display (WXGA 1366x768)
• Second-generation Overclockable Intel Core i CPUs with Intel Turbo Boost Technology 2.0
• Updated graphics featuring the NVIDIA GeForce GT 540M
• Up to 16GB of 1333MHz high-performance system memory
• HDMI 1.4 to support connectivity on HDTVs and 7.1 digital audio
• Audio powered by Klipsch (onboard speakers)
• Optional Intel WiMAX technology
For further information check out the Direct 2 Dell Blog post here:
Direct 2 Dell
Last updated: Apr 7, 2020 at 12:04 pm CDT