-- GIGABYTE Unveils Its First AMD Fusion™ Mini-ITX Motherboard at CES 2011 --
Delivering Outstanding Integrated Graphics from a Low Power, Small Form Factor Hi-Def Home Entertainment Platform
City of Industry, California, January 3 2011 - GIGABYTE TECHNOLOGY Co., Ltd, a leading manufacturer of motherboards, graphics cards and other computing hardware solutions today proudly announced its first ever Mini-ITX form factor motherboard for the AMD platform called the GA-E350N-USB3. The new addition to GIGABYTE's small form factor HTPC motherboard range features AMD Fusion™ Technology with DirectX® 11, SuperSpeed USB (USB 3.0), SATA 6Gbps, an HDMI interface, as well as a host of unique high-end GIGABYTE features such as Ultra Durable™ 3 Classic, 3x USB Power and On/Off Charge for quick charging iPad, iPhone and iPod Touch devices.
"We're excited about the GA-E350N-USB3 motherboard because it's the first all-in-one Mini-ITX board with DX11 capabilities, and we expect it to go a long way towards bridging the gap between discrete and integrated graphics performance," commented Tim Handley, Deputy Director of Motherboard Marketing at GIGABYTE Technology Co. Ltd. "With its specially designed low profile fansink and multitude of hi-def, high-speed connectors, we expect this little power house to be popular amongst HTPC system integrators, DIY enthusiasts and case modders."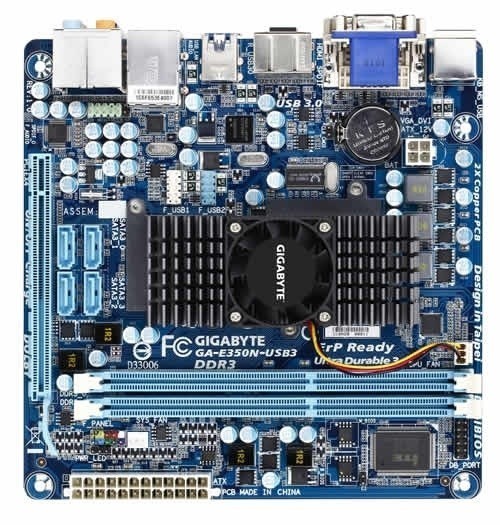 Powered by the AMD E-350 Dual-Core Processor with AMD Radeon™ HD 6310 graphics, the GIGABYTE GA-E350N-USB3 motherboard provides exceptional Blu-ray high definition content playback unmatched by previous integrated graphics solutions. Accompanying the hi-def video out is hi-def 7.1 surround sound audio with S/PDIF out support - another valuable living room PC feature. For connecting and charging portable devices, the GA-E350N-USB3 offers GIGABYTE On/Off Charge technology for quick and convenient charging iPad, iPhone and iPod Touch devices, GIGABYTE 3x USB Power Boost and USB 3.0 from an onboard Renasas (NEC®) controller, ensuring users are able to take advantage the next wave of SuperSpeed USB storage devices.
With regards to build quality, the GA-E350N-USB3 motherboard has been designed to withstand the rigors of an always on device in terms of both energy efficiency and temperature: the GIGABYTE Ultra Durable™ 3 Classic design utilizes 2x the amount of copper of a traditional motherboard PCB, allowing the GA-E350N-USB3 to provide better power efficiency and lower operating temperatures than other designs. Additionally, the GA-E350N-USB3 is equipped with ultra durable all solid Japanese capacitors and GIGABYTE DualBIOS™ technology, which provides a back-up BIOS chip in case the main BIOS becomes corrupted or damaged.
More information about the GIGABYTE GA- E350N-USB3 motherboard is available from:
http://www.gigabyte.com/products/product-page.aspx?pid=3681#ov
USB 3.0 Support
The GIGABYTE GA- E350N -USB3 motherboard supports the latest generation SuperSpeed USB 3.0 technology made possible through an onboard Renasas (NEC®) uPD720200 host controller. With superfast transfer rates of up to 5 Gbps, users are able to experience an almost a 10x improvement over USB 2.0. Additionally, backwards compatibility with USB 2.0 assures users of long term use of their legacy USB 2.0 devices. The onboard Renasas (NEC®) SuperSpeed USB 3.0 technology also provides new power management features that include increased maximum bus power and device current draw to better accommodate power-hungry devices.
3x USB Power Boost
The GIGABYTE GA- E350N-USB3 motherboard features a 3x USB power boost, delivering greater compatibility and extra power for USB devices. GIGABYTE's unique USB power design is also able to efficiently regulate output over the full voltage range, which greatly enhances USB device compatibility. In addition, dedicated lower resistance fuses ensure lower voltage drops, and provide more stable and plentiful power delivery.
On/Off Charge Support
GIGABYTE On/Off Charge technology enables faster iPhone, iPad and iPod Touch charging. A derivative of GIGABYTE's highly acclaimed 3x USB Power feature, On/Off Charge technology allows iPhone, iPad and iPod touch devices to draw more current from GIGABYTE motherboard USB ports than standard USB ports allow, with the added benefit that the PC can be on, in standby mode or even off.
About GIGABYTE Upgrade Your Life
GIGABYTE, headquartered in Taipei, Taiwan, is known as a global leading brand in the IT industry, with employees and business channels in almost every country. Founded in 1986, GIGABYTE started as a research and development team and has since taken the lead in the world's motherboard market. On top of motherboards and graphics accelerators, GIGABYTE further expanded its product portfolio to include notebook and desktop PCs, digital home entertainment appliances, networking servers, communications, mobile and handheld devices, servicing every facet of people's lives at home or business. Everyday GIGABYTE aims to "Upgrade Your Life" with the most innovative designs and impeccable quality and services. Visit www.gigabyte.us for more information.
Last updated: Apr 7, 2020 at 12:03 pm CDT