Antec Debuts New soundscience rockus Speaker System
Antec, Inc., the global leader in high-performance computer components and accessories for the gaming, PC upgrade and Do-It-Yourself markets, today announced the formation of soundscience, a wholly-owned subsidiary of Antec, and introduces the all new soundscience rockus 3D | 2.1 speaker system.
The soundscience rockus 3D | 2.1 speaker system is designed to create a personal theater experience, bringing the power and realism of 3D sound together with the clarity and accuracy of high-fidelity audio, making it an ideal solution for experiencing game and movie sound in 3D.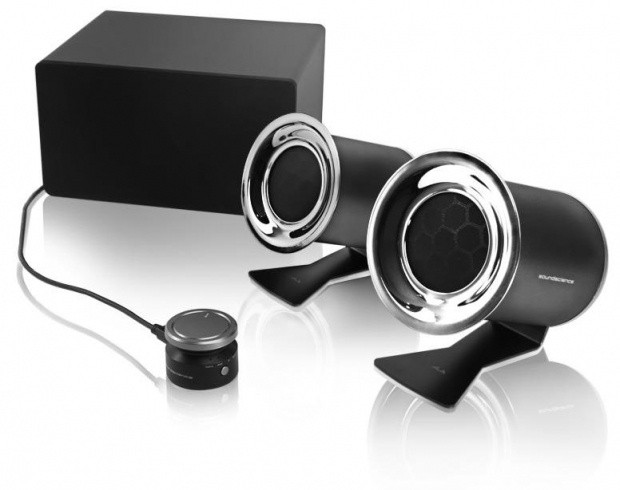 soundscience's 3D audio technology, 3Dsst, is a suite of DSP (digital sound processing) algorithms that create a virtual surround sound experience from 2.1 stereo speakers. 3Dsst actively analyses incoming stereo audio signals and intelligently places them into a 3D sound field, resulting in immersive 3D sound for your movies and games from 2.1 speakers. The soundscience rockus also boasts a dedicated music mode optimized for organic stereo sound reproduction, letting users hear music with deep, visceral sub-bass; powerful, spacious mids and crisp highs.
The soundscience rockus 3D | 2.1 speaker system's satellites are made entirely from anodized aluminum which reduces distortion caused by enclosure vibration and rattling that plagues traditional PC speakers. Additionally, its subwoofer utilizes passive radiator technology to deliver an expansive range of bass comparable to larger footprint subwoofers.
"Given the increasingly large role that digital media plays in our day-to-day lives, we feel the soundscience rockus 3D | 2.1 offers a sleek, well-balanced compact speaker system solution that's easy to use and delivers a crisp, powerful audio experience to a wide-range of users," says Scott Richards, senior vice president of Antec. "This speaker system delivers the enveloping audio experience of a conventional home theater system -- without any complicated setups or messy difficult cabling. Plus, with analog and optical connectivity, it's easy to get well-produced 3D sound from your computer, tablet, game console, mp3 player or any audio gear."
Key Features:
• Anodized aluminum satellites that reduce vibration and minimize distortion, resulting in clear mid and sparkling high-range sound
• Active subwoofer with passive radiator technology, delivering an expansive range of bass comparable to larger footprint subwoofers
• 3D-tuned drivers to deliver audio optimized for soundscience's 3Dsst technology
• Dual-mode operation: 3D mode for enveloping games and movies, and music mode for faithful stereo music playback
• Optical input for playback of digital audio from game consoles (Xbox 360, PS3,) and other, similarly equipped devices
• Remote control pod for volume adjustment, 3D/music mode selection, muting and digital/analog input selection
The soundscience rockus 3D | 2.1 speaker system is backed by Antec's Quality 2-Year (AQ2) Limited Warranty on parts and labor, and is available now for an estimated price of $249.99.
Last updated: Apr 7, 2020 at 12:03 pm CDT