Lantic shows its GTX580 in time
The fastest DirectX 11 card of NVIDIA
LANTIC today release its original design of NVIDIA series GTX 580 1536MB GDDR5. Lantic GTX580 a GF110 part fabricated using the 40 nm process technology. It will have 512 stream processors with a core speed of 772 MHz with a 1544 MHz shade clock and run 1002 MHz (4008 MHz QDR) GDDR5 memory on a 384-bit wide bus.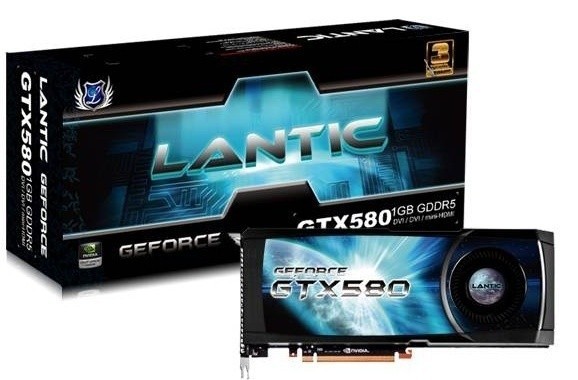 LANTIC GTX 580 1536MB GDDR5 support DX11, 3D Vision and support high-definition resolution. It is a dual-slot card with dual-linked DVI ports and a mini HDMI port and it features the 8-pin+6-pin PCI-e power configuration. LANTIC GTX 580 Equipped with Vapor chamber cooling technology, not only cooler and quieter than the GTX 480, and the new cooler should keep the new card well cooled and at around 47dBA in gaming scenario.
About Lantic Technology
Lantic Technology is a developer of 3D graphics processing technology. By drawing on its extensive past experience in Europe and around the world, Lantic seeks to help consumers overcome bottlenecks in technology. The company offers consumers a comprehensive sales and distribution network that will, in the future, be backed by a complete sales and support network. Lantic develops custom products tailored to meet consumer requirements on quality, price and service. With Lantic products, consumers can expect the best user experience and product guarantees. The perfect balance between performance, quality, price and service is the goal of Lantic as well as the pursuit of extreme performance and overclockability. Only the best materials and latest technologies are used to deliver the highest cost-to-performance ratios. With 24-hour customer support and courier pick-up throughout Taiwan, Lantic insists on the highest standards every step of the way.
Last updated: Apr 7, 2020 at 12:03 pm CDT