PNY Delivers Extreme Gaming Performance With XLR8 GeForce GTX 580
PNY Technologies, Inc. ("PNY"), a global leader in flash memory cards, USB flash drives, solid state drives, high speed HDMI cables, computer memory upgrade modules, consumer graphics cards, and professional workstation graphics cards, today announced the XLR8 GeForce GTX 580 1536MB GDDR5.
PNY's XLR8 GeForce GTX 580 provides exceptional geometric realism, with support for all the premium GTX gaming technologies, such as NVIDIA Surround, 3D Vision, PhysX, and SLI. Unleash your computer's visual potential with the world's fastest DirectX 11 GPU available now. The newest graphics card in PNY's line-up, the GTX 580 rips through the latest games with screaming performance. Featuring an innovative custom vapor chamber, new adaptive fan control, SLI-optimized cover design, and external venting, this card was designed for quieter gaming over previous generations. The GTX 580 also offers support for full stereoscopic 3D gaming, 3D movies, and 3D digital photographs -- for a totally immersive experience.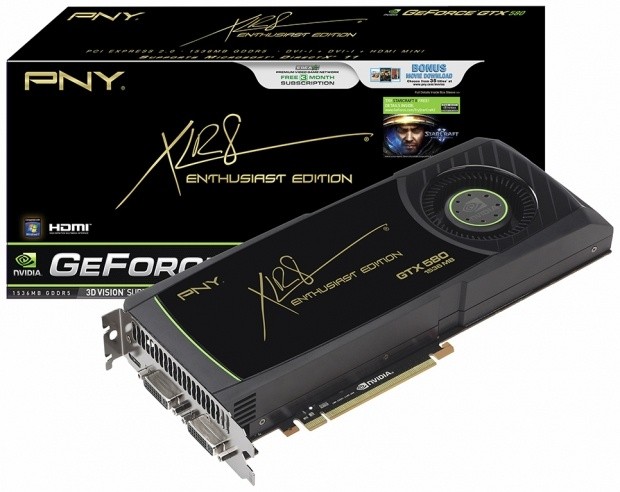 "With outstanding architectural enhancements, the GTX 580 was engineered for extreme gaming performance and advanced visualization," said Nicholas Mauro, senior marketing manager, PC components for PNY. "Boasting an extensive list of features, this high-end card is the epitome of XLR8 gaming. Plus, with the release of 'Call of Duty: Black Ops,' NVIDIA 3D Vision is the best 3D PC solution -- and the GTX 580 transports gamers into the high-intensity realm this game promises. It's definitely a serious card for serious gamers."
Consumers who purchase the PNY GTX 580 will receive a promotional code for a trial version of Blizzard Entertainment's recently released StarCraft II: Wings of Liberty. Users can indulge in the critically acclaimed sci-fi strategy game for 14 days or 7 hours of game play, whichever comes first. This exclusive opportunity allows users to experience a sneak-peak of the full game, valued at $59.99 MSRP.
The PNY GTX 580 graphics card will also feature a bonus full-length movie download from Sony Pictures Home Entertainment. Consumers have their choice of over 35 movie titles from a broad selection of genres including Action/Adventure, Drama, Comedy, Romance, Sports, and Family. The bonus Sony movie downloads include recent blockbuster hits as well as favorite classics, such as The Da Vinci Code, Hitch, Big Daddy, As Good As It Gets, 21 and S.W.A.T.
Additionally, consumers who purchase a PNY GTX 580 will receive a bonus 3 month subscription to E-Sports Entertainment (ESEA) Premium Video Game Network. ESEA is a video game solution provider, specializing in community tools, proprietary anti-cheat technology, custom server modifications, and an extensive network of premium game servers. Users can learn, play, practice and compete all with an ESEA Premium subscription.
For a limited time only, PNY is offering consumers a promotional game bundle. With the purchase of an XLR8 GeForce GTX 580 graphics card on PNY.com, consumers will also receive a bonus PNY 10ft. HDMI-Mini to HDMI Cable, valued at $49.99 MSRP, and a bonus copy of Tom Clancy's H.A.W.X. 2, published and developed by Ubisoft, valued at $49.99 MSRP. This bundle is available in limited quantities and only on PNY.com.
XLR8 GeForce GTX 580
• 1536MB of GDDR5 frame buffer memory
• 772 MHz core clock and 1544 MHz processor core clock
• 512 processor cores
• 192.4 GB/second memory bandwidth
• A texture fill rate of 49.4 billion/second
• An effective memory data rate of 4008 MHz
• MSRP: $499.99
PNY's latest graphics card comes equipped with the following features:
• Microsoft DirectX 11 support
• NVIDIA CUDA technology with CUDA C/C++, DirectCompute 5.0 and OpenCL support
• NVIDIA PhysX technology
• NVIDIA SLI-Ready
• NVIDIA 3D Vision Surround Ready
• NVIDIA PureVideo HD technology
• PCI Express 2.0 support
• Two dual-link DVI-I connectors
• One HDMI-Mini connector
• Dual-link HDCP-Capable
• OpenGL 4.1 support
PNY offers a Limited Lifetime Warranty for the entire XLR8 GeForce GTX Series, including the GTX 580 graphics card. Users have a standard 1-year out of box warranty, extended to the lifetime of the original purchaser upon completion of product registration at PNY.com within 90 days of purchase. PNY also offers free 24-hour technical support.
Last updated: Apr 7, 2020 at 12:03 pm CDT