ATP Introduces Vertical Slim SATA SSD Module
ATP, a leading flash memory manufacturer known for its high quality, durable flash and DRAM memory modules announced its newly released Vertical Slim SATA Embedded Module. With its small size and ratified JEDEC standard, MO-297, the Vertical Slim SATA Embedded Module is an ideal fit for embedded solid state storage applications. The compact design of the Slim SATA solution makes the module the ideal structure for SSD solutions that have space constraints and require high performance and reliability.
The ATP Vertical Slim SATA Module adheres to the JEDEC standard, as well as CE, FCC and RoHS industry compliance and regulatory standards. The small size (54mm(L)x39.8mm(W)x4.0mm(H) and high density of the Vertical Slim SATA makes the module an ideal replacement for the 2.5" HDD. It offers an alternative solution for space constrained embedded applications such as IPC, Blades, Advanced TCA, Networking hosts, POS machines, and enhances the capability, performance and reliability of different applications. The ATP Vertical Slim SATA Module is available in 2GB to 16GB capacities.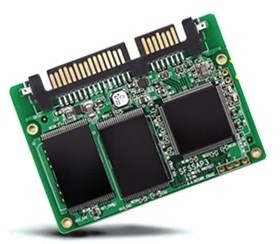 "ATP Electronics is committed to addressing the market needs of smaller and more efficient memory modules which provide the same performance and reliability of larger alternatives. The Vertical Slim SATA Module, with its compact design and superior performance capability is the ultimate solution for embedded solid state storage applications requiring optimal operating abilities," said Michael Plaksin, ATP Vice President of Sales and Marketing.
ATP Vertical Slim SATA embedded modules support key flash management features including global wear-leveling, error checking and correction as well as drive monitoring (S.M.A.R.T.), providing our clients with the high reliability and endurance.
Last updated: Apr 7, 2020 at 12:03 pm CDT