Silicon Power USB3.0 Express Card ~ Give Your Laptop the Best!
World leading USB flash drive manufacturer, Silicon Power today (9/21) releases their USB3.0 express card for users to upgrade their laptops without forking out!
Silicon Power's super speed USB3.0 express card uses the Express/34 interface that is compatible with majority of laptops on the market. The express card has two USB3.0 ports for users to fast transfer high volumes of data or take advantage of its USB2.0 backward compatibility and use it as an expansion port.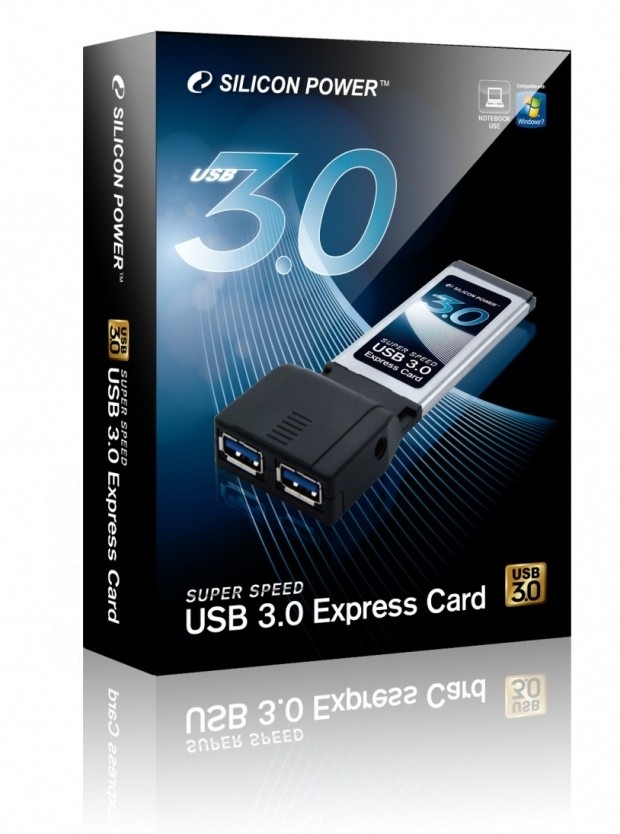 The USB3.0 express card can be easily installed into laptops and provides up to 5Gb/ sec maximum transfer rate (theoretical value). When compared to USB2.0's 480Mbps, it has 10 times the bandwidth. Silicon Power's USB3.0 express card supports the latest Window 7 operating system and it comes with a 2-year warranty.
Feature:
Add USB 3.0 ports to laptop with an ExpressCard/34 slot
Two external USB 3.0 ports
Connection bandwidth up to 5Gbits per second (USB 3.0 mode)
Installs easily in Express slot
Compatible with USB 2.0 and USB 1.1 devices
Supports plug and play and hot swapping
Compliant with Intel's extensible Host Controller Interface (xHCI) specification revision 0.95
Specification:
Dimensions:115mm (L) × 40mm (W) × 13mm (H)
Weight: 32g
Interface: USB 3.0 / 2.0 / 1.1
Data Transfer Rates: Up to 5gbits per second(USB3.0 model)
USB Bus Power Output:5V, 900mA max total output (with USB Power Cable)
PC Interface: ExpressCard/34
USB Ports: 2 external (supports USB3.0/2.0/1.1)
Operating Temperature: 0? to 85 ?
Storage Temperature: -65? to 125 ?
Operating System Supported: Windows 7(32/64-bit), Vista, XP, 2000
Warranty: 2-year warranty
About Silicon Power
Silicon Power Computer & Communications Inc., founded in 2003 by a group of enthusiastic specialists of flash data storage industry. Well dedicated in brand image and product quality, Silicon Power has been recognized and well accepted by millions of end-users in more than 100 countries, becomes the world's leading manufacturer of flash memory cards, USB flash drives, card readers, DRAM modules, solid state disks, and portable hard drives in less than a decade. Headquartered in Taipei, we continuously established various branches throughout the world including Netherlands, Japan, Russia, Mainland China and other emerging market. With superior quality and innovative design, our products stood out in several competitions and awarded Taiwan Excellence and COMPUTEX Design & Innovation Award in 2009 and 2010. Winning trust of global consumers, Silicon Power holds a record of successive double-digit revenue growth for last seven years. For Silicon Power, the product we introduced is not only a digital storage device but also a real promise to create and preserve your most valuable memory in every moment.
Last updated: Aug 9, 2020 at 12:18 am CDT