SILICON POWER Launched Royal Large-Capacity 12GB DDR3 DRAM Module
September 10, 2010, Taipei, Taiwan ~ Silicon Power, the world's leading manufacturer in flash memory and DRAM module, today (9/10) announced the royal launch of DDR3 large-capacity series with 256Mx8 advanced procedure, adding a brand-new golden troop with enhanced performance to Silicon Power's DRAM family! The product line includes 4GB (single channel), 8GB (dual kit), and 12GB (triple kit), fully compatible with the latest platforms such as Intel Core series, AMD AM3 series, etc. Silicon Power DDR3 large-capacity series are perfect for Windows 7 64 bits. With such combination, end-users may open numerous programs simultaneously. Even if your computer operates overtime with power-consuming editing / gaming programs, you may still experience the ultimate enjoyment of ultra high-speed and outstanding performance.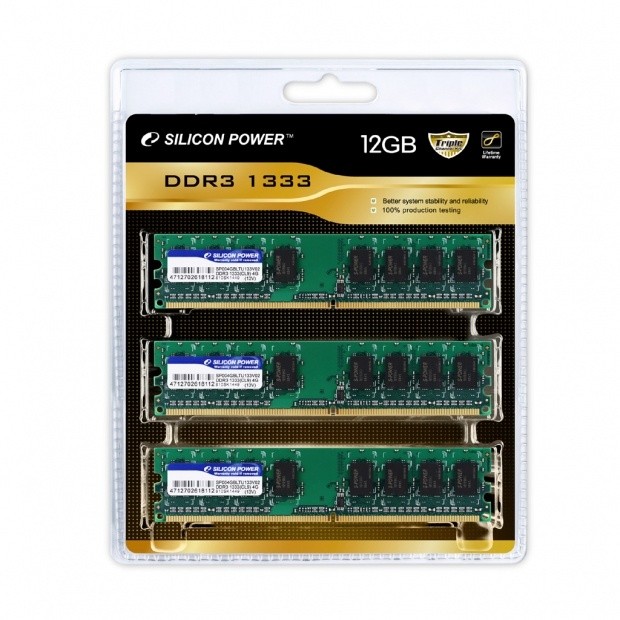 Silicon Power DDR3 memory modules are consistent with JEDEC standards, adopting new fly-by topology design for more efficient commands, addresses, control signals, and clocks signals. They also support On-DIE Termination (ODT) to dramatically reduce unwanted reflection signals and maximize speed rate. Meanwhile, Silicon Power insists on using original memory modules and FBGA packaging technology for excellent heat dissipation and accurate data transferring. Silicon Power dual / triple-channel memory kits are 100% tested to guarantee high performance of stability, durability and compatibility.
Silicon Power DDR3 series are in compliance with strict RoHS standards and come with a complete after-sales service and lifetime warranty. There are many options for end-users to choose from: 4GB Long / So DIMM, 8GB duel-channel kit (4GBx2), and 12GB triple-channel kit (4GBx3). For more information, please visit www.silicon-power.com.
Product specifications:
- Memory module type: DDR3 Unbuffered ECC Memory
- Pins: 240Pin Long-DIMM / 204Pin So-DIMM
- Frequency: DDR3-1333MHz
- ECC function: Unbuffered Non-ECC Memory
- Capacity: 4GB / 8GB (4GBx2) / 12GB (4GBx3)
- Flash module spec.: 256Mx8 (bit)
- Operating voltage: 1.5V
- CAS latency: 9 (1333MHz)
- Warranty: Lifetime warranty
About Silicon Power
Silicon Power Computer & Communications Inc., founded in 2003 by a group of enthusiastic specialists of flash data storage industry. Well dedicated in brand image and product quality, Silicon Power has been recognized and well accepted by millions of end-users in more than 100 countries, becomes the world's leading manufacturer of flash memory cards, USB flash drives, card readers, DRAM modules, solid state disks, and portable hard drives in less than a decade. Headquartered in Taipei, we continuously established various branches throughout the world including Netherlands, Japan, Russia, Mainland China and other emerging market. With superior quality and innovative design, our products stood out in several competitions and awarded Taiwan Excellence and COMPUTEX Design & Innovation Award in 2009 and 2010. Winning trust of global consumers, Silicon Power holds a record of successive double-digit revenue growth for last seven years. For Silicon Power, the product we introduced is not only a digital storage device but also a real promise to create and preserve your most valuable memory in every moment.
Last updated: Aug 9, 2020 at 12:18 am CDT