Gateway Launches Chic New Gateway ID Series Notebook
Jul 30, 2010 7:29 AM CDT
Gateway Launches Chic New Gateway ID Series Notebook
Modern, streamlined design with latest technology; Select models have NVIDIA Optimus technology for ideal balance of graphics performance and battery life
MISSISSAUGA, Ontario--(BUSINESS WIRE)--Gateway today launches the new Gateway ID Series notebook PC line in Canada. The Gateway ID Series features unique style elements and is designed to deliver the latest in mobile technology in a streamlined design that is modern, chic and eye-catching.
"Notebooks are more than ever an expression of who we are and what's important to us"
The Gateway ID Series will be available in three sizes:
The Gateway ID49 has a 14-inch HD Ultrabright LED-backlit display, weighs 5.07 pounds and measures only a slim 1-inch thin.
The Gateway ID59 has a 15.6-inch HD Ultrabright LED-backlit display, weighs 5.5 pounds and measures only a slim 1-inch thin.
The Gateway ID79 has a 17.3-inch HD Ultrabright LED-backlit display, weighs 7.17 pounds and measures only 1.5-inches thin.
The Gateway ID Series notebooks comes in a sleek silver design with an aluminium alloy lid designed to be comfortable to carry and easy to slide into a briefcase or book bag. The Gateway ID49 and ID59 both have a unique aqua-blue touchpad that glows when touched, drawing users to access entertainment and information.
In addition, select models of the new Gateway ID49 Series feature NVIDIA Optimus graphics technology, which intelligently regulates the notebook's use of dedicated NVIDIA GeForce GT 330M graphics or integrated Intel HD graphics, depending on the task it is performing. The notebook will use NVIDIA GeForce GT 330M dedicated graphics while running video, games and multimedia applications to ensure the visuals are incredibly crisp and clear. Alternately, the notebook will switch to integrated Intel HD graphics when less demanding programs are being used, such as browsing websites, or working on documents and spreadsheets. As a result, the NVIDIA Optimus technology ensures that battery life is extended for longer enjoyment.(1)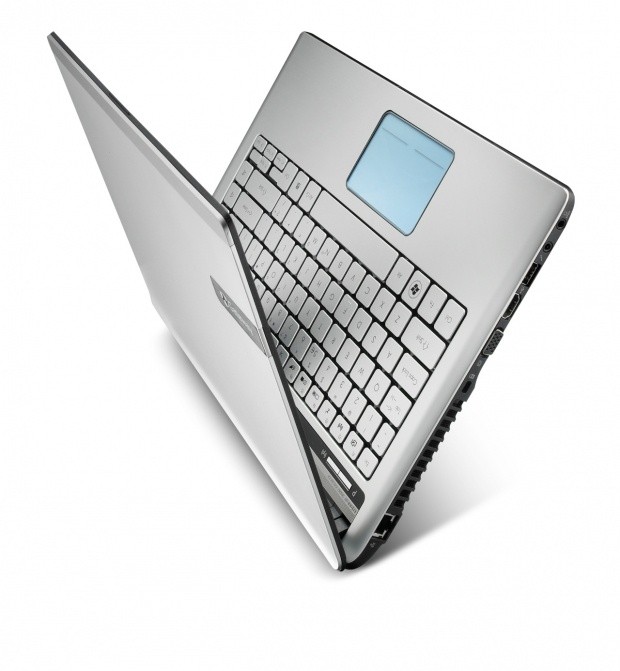 "Notebooks are more than ever an expression of who we are and what's important to us," said Chris Chiang, retail product marketing manager, Gateway. "The look and feel of the Gateway ID Series notebooks is so unique that anyone will be drawn to them and will then enjoy the notebooks' advanced capabilities and entertainment features. And with NVIDIA GeForce GT 330M graphics with Optimus technology, consumers can experience improved graphics performance when it matters, backed by battery life preservation for longer use."
Touchpad and Keyboard Comfortable, Enjoyable to Use
The most striking element of the new Gateway ID49 and ID59 Series notebooks is the aqua-blue touchpad that resembles matte glass when not lit, and then glows when touched. All models feature multi-gesture capabilities to more intuitively scroll through documents, rotate photos, and pinch to zoom in on websites.
The Gateway ID Series was designed to be comfortable and easy to use. The keyboard is smooth with well-defined keys that provide the right response for smooth typing and blend seamlessly with the rest of the unit to further promote a streamlined feel. Additional features, such as the touchpad lock and programmable key, promote productivity. Plus, the larger screen sizes of the Gateway ID79 and ID59 make room for a dedicated numeric keypad for fast and easy number input.
Stylish Mobile Performance and Entertainment On-the-Go
Ready for on-the-go mobile performance with the latest in technology and features, the Gateway ID49 and ID59 Series include support for Intel Core i3 and Core i5 processing technology and includes models that come with 4GB of DDR3 memory, expandable to 8GB. The Gateway ID79 line delivers a heightened level of performance for video editing, mainstream gaming and advanced multitasking with Intel Core i7 processors supported by up to 6GB of DDR3 memory that can be expanded to 16GB of memory.
The Gateway ID79 features a vibrant 17.3-inch LED-backlit TFT LCD with a 1600x900 resolution that shows movies and games in lifelike detail. The Gateway ID59 and ID49 models feature widescreen LED-backlit displays with a 1366x768 resolution, so visuals are crisp and clear. Images are enhanced on select models with the aforementioned NVIDIA Optimus graphics (as found on the Gateway ID49), which switches between graphics solutions for an optimized balance of performance and battery life.
Entertainment can be easily enjoyed with the many features in the ID Series. The capacitive touch multimedia keys provide easy control of features such as play, forward, pause and volume control. Customers can feel like part of the entertainment when enjoying video on the Super-DVD player and listening to high-fidelity Dolby Home Theater v3 audio. The new notebooks can be used as a mobile home theater thanks to their HDMI port, which lets customers use a single, convenient cable connection to deliver crisp high-quality visuals and high-fidelity audio to a home theater or external LCD.
The Gateway ID Series is ready for entertainment and productivity with all the ports customers need to connect to their devices such as camcorders and digital cameras, printers and a network connection. Also, the notebooks feature media card readers that accept popular media cards (Secure Digital, MultimediaCard, Memory Stick, Memory Stick PRO and xD Picture Card) as well as hard drives up to 640GB in capacity(2), so customers will be able to easily and quickly access, download, store and share their digital media content.
Staying in Touch with Social Networking Key, Lots of Connectivity
Gateway has featured a new integrated "social networking" button on its newest notebook and netbook lines, and that includes the new Gateway ID Series. The dedicated key gives customers quick access to their social networks on Facebook, YouTube and Flickr. Pushing the button launches an integrated widget that lets customers easily make updates to their own sites by posting information, images and video, while also enjoying updated status feeds of friends, family and colleagues.
Gateway customers can use the ID Series to stay in touch via email and websites. The devices come with integrated 802.11b/g/n Wi-Fi Certified for a reliable connection to hotspots and wireless networks. Plus, the integrated 1.3MP webcam enables a crisp and clear high-resolution image for real-time video streaming, online chatting and video conferences. The Gateway ID Series features two integrated digital microphones for improved sound recording via the webcam.
Back-up with a Single Touch
Since today's mobile-savvy customers want to take their video, photos and other files with them, the Gateway ID Series notebooks feature MyBackup functionality that gives them a way to quickly and easily back-up all their important files.
Price and Availability
The Gateway ID Series is available now in a variety of configurations to meet a range of budgets. The Gateway ID49 with a 14-inch display starts at a Manufacturer's Suggested Retail Price (MSRP) of CAD $609.99. The Gateway ID59 with a 15.6-inch display starts at an MSRP of CAD $699.99. The Gateway ID79 with a 17-inch display starts at an MSRP of CAD $1049.99.
Gateway Limited Warranty, Service and Support
The Gateway ID Series notebook PCs are backed by a one year warranty(3). Gateway's commitment to quality and reliability is evident in its award-winning line of PCs as well as in its exceptional service and support programs. In addition to the company's standard limited warranty options, its extensive online support center helps customers maximize their PC investment; it gives them easy access to customer support representatives and information on important issues such as warranties, technical issues and upgrading(4).
About Gateway
Since its founding in 1985, Irvine, Calif.-based Gateway has been a technology pioneer, offering award-winning products and world-class service to customers worldwide. Gateway is a wholly owned subsidiary of Acer Inc., the second-largest PC company both globally and in Canada.(5) See www.gateway.com for more information.
All offers subject to change without notice or obligation and may not be available through all sales channels. Prices listed are manufacturer suggested retail prices and may vary by retail location. Applicable taxes extra. 2008 Gateway, Inc. Gateway Terms & Conditions of Sale apply. Trademarks used herein are trademarks or registered trademarks of Gateway, Inc. in the United States and other countries. Intel and Core are trademarks or registered trademarks of Intel Corporation or its subsidiaries in the United States and other countries. Other product or service names mentioned herein are the trademarks of their respective owners.
Last updated: Apr 7, 2020 at 12:02 pm CDT
PRICING: You can find products similar to this one for sale below.

United States: Find other tech and computer products like this over at Amazon.com

United Kingdom: Find other tech and computer products like this over at Amazon.co.uk

Australia: Find other tech and computer products like this over at Amazon.com.au

Canada: Find other tech and computer products like this over at Amazon.ca

Deutschland: Finde andere Technik- und Computerprodukte wie dieses auf Amazon.de
Related Tags