ADATA Releases USB2.0 Combo 2-in-1 Interfaced Connector N909 Flash Drive
ADATA Technology, a leading vendor of DRAM modules and flash memory products, launched the industry first ever USB flash drive N909 featuring with the latest eSATA+USB 2.0 COMBO interface, designed to outperform conventional USB 2.0 USB drives with enhanced data transfer speed. The N909 adopts the 4-channnel technology that sets to boost data transfer rates up to 90MB/s and 50 MB/s in sequential read/write performance respectively.
N909 is one of the first innovative storage device equipped with eSATA+USB 2.0 combo interface with a single connector. Apart from using in eSATA+USB 2.0 combo port, N909 supports the easy plug-and-play on compatible platforms and is also backward compatible with USB 2.0 port. In addiction, the combo interface also provides an access for charging via the USB interface which used to be considered as an inconvenient problem on the eSATA interface. Combining the revolutionary combo interface, N909 offers the best solution for transferring large amount of data compared to the preceding USB 2.0. In other words, a 4GB avi only needs 59 seconds to be read as opposed to 4.2 minutes via a conventional USB 2.0 interface.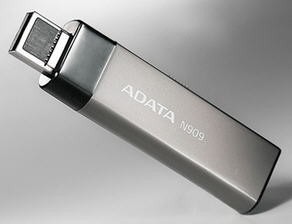 Bringing Fashion and Specialty Together
Fashionable design is also brought into N909, as the aluminum body and the cool lime-green LED give it a stylish and sophisticated touch. Available up to 64GB, N909 is ideal for users who need to carry large amount of data on the go and seek ultra-fast data access via the innovative eSATA+USB 2.0 combo interface with the transfer rate up to 600X.
Users can also take full advantage of ADATA's free-download value-add software UFDtoGO and the latest Norton Internet Security 2010 (60-day trial) to enhance both mobility and security of their ADATA USB flash drives with just few easy mouse clicks away.
Last updated: Apr 7, 2020 at 12:02 pm CDT