POWERCOLOR ANNOUNCES LCS HD5870 V2 FOR ULTIMATE GAMING EXPERIENCE
Factory overclocked settings and superb cooling ability are brought to the V2 edition
Taipei, Taiwan -July 22, 2010-TUL Corporation, a leading manufacturer of AMD graphics cards, announced an upgraded version of the LCS HD5870. The PowerColor Liquid Cooling Solution (LCS) HD5870 V2 features unprecedented factory overclocked settings, clocking in at 950MHz core speed and 1200MHz memory speed. The features easily boost gaming performance never seen on a single-GPU.
The PowerColor LCS HD5870 V2 is equipped with an award-winning EK cooling solution once again. It's equipped with a full water block mounted on the card, fully covering the memory and power regulator chip. The LCS5870 V2 is also designed with a copper base able to reduce temperatures under 50°C at load, offering outstanding thermal performance and enhancing the overclcoking potential in an ultra-stable environment.
"We got very positive feedback from the first version of the LCS HD5870," said Ted Chen, CEO of TUL Corporation. "Now we released an upgraded version with factory overclocked settings and offer a cool working environment. We're sure that it will exceed expectations from gamers."
DiRT2 Game Bundle: Unleash DirectX® 11 gaming power
PowerColor includes the latest DiRT2 into LCS HD5870 V2 to utilize the DirectX® 11 technology. DiRT2 is a world tour of adrenaline-fuelled extreme off-road events in stunning real-world locations. With the support of DirectX® 11 technology, this latest game delivers the most realistic, immersive and exhilarating racing experience to gamers.
The PowerColor LCS HD5870 V2 packages a high-flow 3/8" and 1/2" fittings (barbs) to maximize water flow with captured o-rings to prevent leakage. Gamers can easily customize their own liquid cooling system using these two fittings.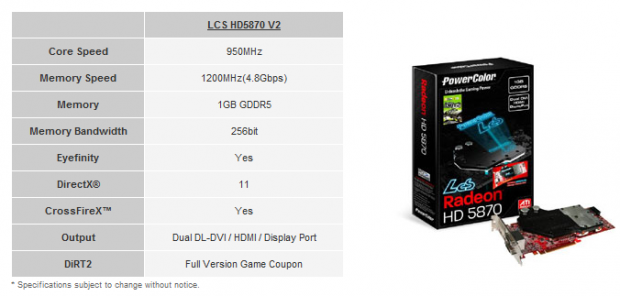 About EK Water Blocks
Started in year 1999, when the founder Edvard König bought his first computer. The goal for EK is to excel in a niche market of performance upgrades for computers. With continuous research and development, we have established a portfolio of products for water cooling. Quality and breathtaking design on the technological edge is our philosophy. For further information, visit: http://www.ekwaterblocks.com/index.php
About TUL Corporation
TUL is a leading supplier of AMD graphics cards under the PowerColor brand. We offer award-winning products based on our technology leading components, quality design and superb engineering. TUL employs more than 150 talents worldwide, with offices in China, Europe, Russia and USA to support over 300 channel partners and distributors in 50 plus countries. For further information, visit: http://www.tul.com.tw/global/
Last updated: Apr 7, 2020 at 12:02 pm CDT