HighPoint Releases 8 Channel External 2nd Generation SAS 6Gb/s RAID Host Adapter
HighPoint Technologies, announces shipment of the RocketRAID 2722. The RocketRAID 2722 delivers the next generation of SAS 6Gb/s performance with 8 channels of external point-to-point direct connectivity. The newest member broadens the HighPoint SAS 6Gb/s RAID product portfolio which now includes all generations of SATA (6Gb/s, 3Gb/s & 1.5Gb/s) and SAS 6Gb/s storage interface.
HighPoint RocketRAID 2722 is first 8 channel external member of the SAS/SATA 6Gb/s RAID host adapter family series. There two SFF-8088 connectors to support up to 8 external SAS/SATA devices. A PCI-Express 2.0 x8 bus interface is backward compatible to PCI-Express 1.0. HighPoint hardware assisted RAID 0, 1, 5, 10, 50 and JBOD offers a balance of storage performance with protection.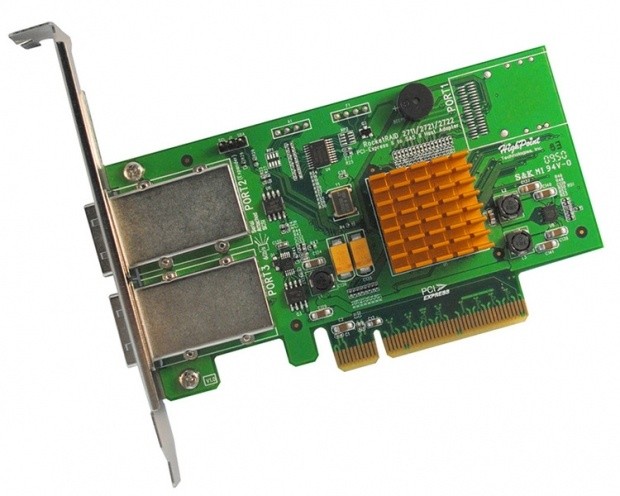 Software support includes a wide range of the operating systems and a user friendly RAID management and monitoring tool for popular OSes such as Windows, Linux, FreeBSD and Mac OS X.
Speed Boost from PCI-Express 2.0
A speed boost from PCI-Express 2.0 doubles the bus interconnect. This effectively increases the aggregate bandwidth of an 8-lane link to approximately 4GB/s of throughput. The higher bandwidth will achieve higher performance to support the highest performing SAS and SSD hard drives. The new PCI-Express 2.0 is commonly found in current server and high-end workstation configurations.
Smart External Connectivity
With Smart Connectivity the RocketRAID 2722 has the flexibility to support either 15,000 RPM SAS or SSDs hard drives for performance and low cost SATA hard drives for capacity. The RocketRAID 2722 retains backward compatibility for SAS (3Gb/s) and for all generations of SATA (6Gb/s, 3Gb/s and 1.5Gb/s) hard drives. The ability to deploy either type of drives allows the computer system to be optimized for specific application and cost requirements. Disks with SAS interfaces and SSD's are designed to meet the characteristics of highest performing environments while SATA interfaces are tailored for environments that require performance and capacity.
Last updated: Apr 7, 2020 at 12:02 pm CDT