Samsung Launches 3.5'' Spinpoint F4 320GB Hard Drive
Samsung Electronics Co., Ltd., a worldwide leader in digital consumer electronics and information technology, announced that it is now shipping the Spinpoint F4, the newest model of its Spinpoint F series drives. The superior performance and high-reliability Spinpoint F4 is engineered for high-end computing in PCs, Macs, high-end workstations and server applications.
"Higher performance combined with increasing capacities continues to accelerate demand for 3.5" drives in desktops storage," said In-Chul Park, vice president of sales, storage systems division, Samsung Electronics. "The one-head platform of the new 7200rpm Spinpoint F4, packing up to 320GB of storage capacity per one head in half platter, delivers added reliability that our customers have come to expect from Samsung."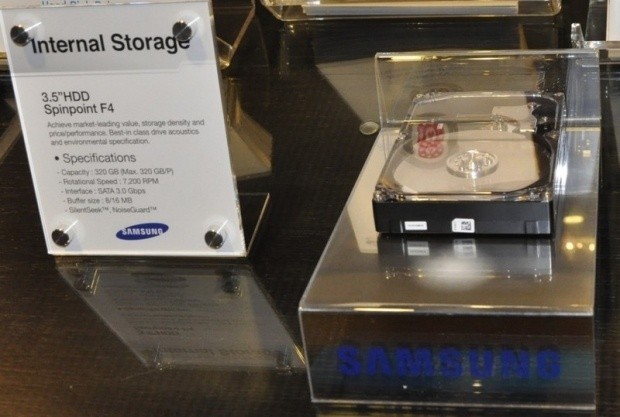 With a one-head platform design and fewer mechanical parts, the reliability and acoustic features of the Spinpoint F4 have been improved. The drive delivers 10% increased read/write performance and 7% lower power consumption than the Spinpoint F1.
Eliminating halogen compound and brominated flame retardant from the PCBA, the new Spinpoint F4 is produced with eco-friendly materials and meets all the environmental regulations including RoHS (Restriction of Hazardous Substances).
The Spinpoint F4 features 7200 rpm speed rotation, advanced areal density technology and a SATA 3.0 Gbps interface. Equipped with Samsung's exclusive dynamic balancing technology, the drive's overall stability and reliability is optimized as a high performing solution. Samsung's proprietary SilentSeek and NoiseGuard technologies are incorporated in the drive to offer ultra quiet operation.
The Spinpoint F4 drive has an 8MB/16MB buffer memory and is available in 320 GB capacities worldwide. The Spinpoint F4 is available to key OEMs now.
Last updated: Apr 7, 2020 at 12:02 pm CDT