VIA EITX-3001 Shows that 'Thin is In' for Embedded Devices
VIA announce VIA EITX-3001, a slim-line Em-ITX form factor board featuring VIA Nano E-Series and HD video over HDMI
Taipei, Taiwan, 9 June 2010 - VIA Technologies, Inc, a leading innovator of power efficient x86 processor platforms, today announced the VIA EITX-3001, its latest Em-ITX form factor board and the ideal solution for a range of durable and fanless next generation devices in kiosk, HMI, POI and POS embedded applications.
Combining the latest VIA Nano E-Series processor and the VIA VX855 media system processor, the VIA EITX-3001 offers a full featured I/O specification on a specially developed slim-line board. Fanless devices based on the VIA EITX-3001 can enjoy absolute stability within a wide temperature range in a low profile system of less than 35mm high.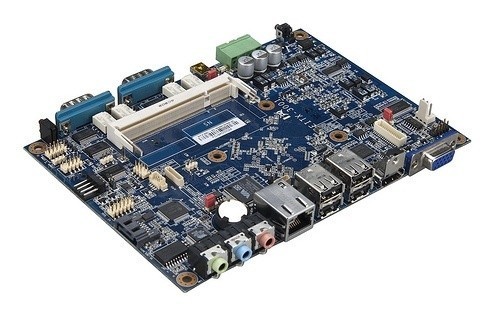 "With the VIA EITX-3001 we're offering a full-featured board that is the ideal starting point for much slimmer, fanless and rugged devices," said Daniel Wu, Vice President, VIA Embedded Platform Division, VIA Technologies, Inc. "The VIA EITX-3001 combines versatility with ruthless stability at extreme temperatures in a form factor that is ideal for space constrained industrial and commercial environments."
The VIA EITX-3001: Slim, Stable and Fanless
The VIA EITX-3001 is powered by a 1.3GHz VIA Nano E-Series processor, bringing a performance optimized, 64-bit architecture to today's modern embedded applications. The VIA EITX-3001 also takes advantage of the VIA VX855 media system processor, a feature packed all-in-one digital media chipset that brings excellent hardware acceleration for the latest HD video formats including MPEG-2, H.264, VC-1 and WMV9.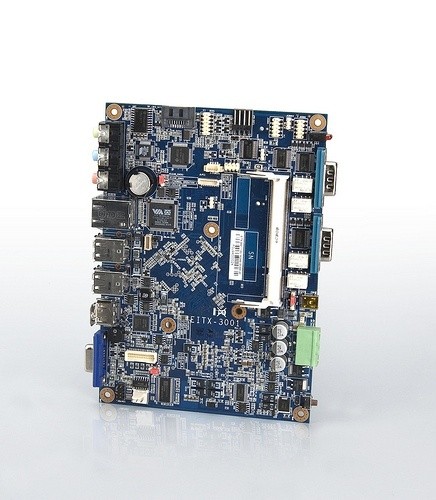 The VIA EITX-3001 is based on the unique Em-ITX form factor, placing both the VIA Nano E-Series processor and VIA VX855 MSP on the reverse side of the board, optimizing available board real estate and facilitating simple fanless chassis designs. The VIA EITX-3001 is guaranteed to be stable in passive cooling configurations at temperatures ranging from -10oC to 60oC.
The VIA EITX-3001 includes an onboard DC-to-DC converter that has both AT and ATX power modes, supporting a wide range of power input voltage from DC 7V to DC 36V, configurable through an onboard switch. An on board built-in 5-wire/4-wire USB Touch interface makes the EITX-3001 ideally suited for high-end interactive touch screen multimedia applications.
Dual I/O coastlines allow for a wealth of I/O ports including a HMDI port, VGA port, Gigabit Ethernet, dual COM ports, four USB ports, a USB device port, audio jacks and power and HDD activity LEDs. LVDS is supported through on board pin headers allowing for a range of multi-display options including CRT/LVDS, CRT/HDMI and LVDS/HDMI configurations.
The VIA EITX-3001 supports all 32-bit and 64-bit Microsoft Windows operating systems including the latest Windows Embedded Standard 7.
The VIA EMITX-30001 is available to customers now. To learn more about the VIA EITX-3001 please visit:
http://www.via.com.tw/en/products/embedded/ProductDetail.jsp?productLine=1&id=1210
To find images related to this announcement, please go to:
http://www.viagallery.com/index.php?option=com_flickr4j&Task=sets&Set=72157624229732034&Page=1
About the Em-ITX Form Factor
The VIA-developed Em-ITX form factor measures 12cm x 17cm and is an open industry standard that forms the ideal base for a wide range of industrial automation, digital signage, kiosk, HMI, POS, POI and other embedded applications. Both 17cm edges provide I/O coastlines making it ideally suited to the development of ultra-slim embedded devices. This unique design greatly reduces cable clutter, facilitating thinner, more compact designs.
To learn more about the Em-ITX form factor please visit:
http://www.via.com.tw/en/initiatives/spearhead/em-itx/
About VIA Technologies, Inc.
VIA Technologies, Inc is the foremost fabless supplier of power efficient x86 processor platforms that are driving system innovation in the PC, client, ultra mobile and embedded markets. Combining energy-saving processors with digital media chipsets and advanced connectivity, multimedia and networking silicon enables a broad spectrum of computing and communication platforms, including its widely acclaimed ultra compact mainboards. Headquartered in Taipei, Taiwan, VIA's global network links the high tech centers of the US, Europe and Asia, and its customer base includes the world's top OEMs and system integrators. www.via.com.tw
Last updated: Apr 7, 2020 at 12:02 pm CDT