ASUS Enables World's Fastest Certified Triple Channel Memory Speeds at 2333MHz
-- Record-breaking certified triple memory speeds with Kingston HyperX memory facilitates consumers growing demand for high performance systems --
Fremont, CA (June 1st, 2010) - ASUS, one of the world's premier technology companies and the leading maker of motherboards worldwide, today announced its P6X58D Premium motherboard has achieved the fastest Intel certified* DDR3 triple channel memory speed ever recorded. Designed for outstanding performance, the P6X58D Premium motherboard is able to support triple channel DDR3 at 2333MHz, certified using Intel XMP, or Extreme Memory Profile technology.
This is the strictest memory testing standard in the industry, designed for dedicated gamers and overclockers, while becoming increasingly popular with more mainstream users for enhanced system performance. Few vendors pass XMP certification at these speeds, demonstrating the quality and capabilities of ASUS hardware.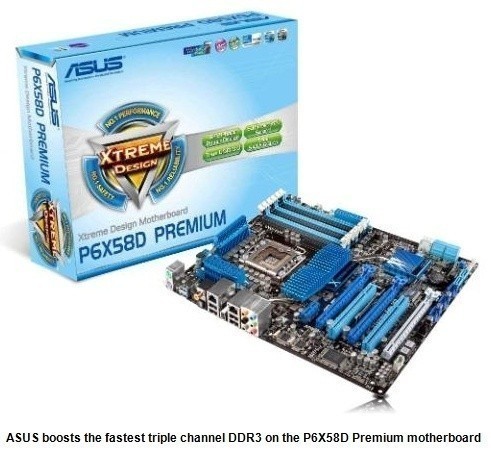 Rigorous Testing Leads to the Best Memory Performance
ASUS routinely puts all its motherboards through strenuous testing to discover their utmost potential and ensure complete stability and compatibility. In another milestone, the Intel P55-based ASUS P7P55D-E Series of motherboards recently reached record-breaking dual-channel DDR3 memory clocked at 2.5GHz and above. The AMD 890FX-based Republic of Gamers Crosshair IV Formula motherboard has also gained from extreme testing and envelope pushing, featuring the first high performance dual-channel DDR3-2000+ memory speeds for AMD users. Whether on an Intel or AMD platform, PC users know ASUS' continued dedication to uncompromised testing allows them to reach the next level of performance.
*Certification can be viewed at
http://www.intel.com/consumer/game/extreme-memory.htm
.
About ASUS
ASUS is a leading company in the new digital era, with a broad product portfolio that includes notebooks, netbooks, multimedia, motherboards, graphics cards, displays, desktop PCs, servers, wireless solutions, mobile phones and networking devices. Driven by innovation and committed to quality, ASUS designs and manufactures products that perfectly meet the needs of today's home and office users. ASUS won 3,268 awards in 2009, and is widely credited with revolutionizing the PC industry with the Eee PC™. With a global staff of more than 10,000 and a world-class R&D design team, the company's revenue for 2009 was US$7.5 billion. ASUS ranks among BusinessWeek's InfoTech 100, and has been on the listing for 12 consecutive years.
ASUS Motherboards: No.1 in the World
ASUS is the no.1 motherboard brand in the world, commanding the biggest market share globally. Today, one in every three computers houses an ASUS Motherboard. ASUS is the pioneer of numerous innovations that have gone on to become industry standards. Recent examples include the Hybrid Phase power design, Hybrid Processor, Hybrid Switch overclocking design and Protect 3.0 for safe operation. With decades of expertise and dedication to pushing the motherboard design envelope, ASUS is poised to continue leading the industry in performance, safety and reliability.
Last updated: Apr 7, 2020 at 12:02 pm CDT