Corsair Launches AirFlow Pro Memory Parametric Data Display for Dominator DIMMs
- Data reported via 5-pin connector incorporated on recent-generation Dominator memory modules with DHX Pro technology -
Taipei, Taiwan - June 1, 2010 - Corsair®, a worldwide designer and supplier of high-performance components to the PC gaming hardware market, today announced the Corsair AirFlow™ Pro parametric display for select models of Dominator® memory. This display reads memory activity and voltage from modules enabled with DHX Pro™ technology, and presents the data on an outrageously cool LED display that mounts above the memory.
Background
Enthusiast customers have always been interested in knowing what is going on with their memory, and in response Corsair has offered unique, pioneering products to provide this information for many years. In 2003, the Pro Series memory took the enthusiast community by storm, providing an LED meter display that showed how intensively the memory subsystem was being accessed. We took that idea a step further in 2005 with the XPERT series, which offered display of memory parameters both on the module and through a Windows® application. Now, Corsair continues to innovate with the launch of the AirFlow Pro parametric display.
Introducing Corsair AirFlow Pro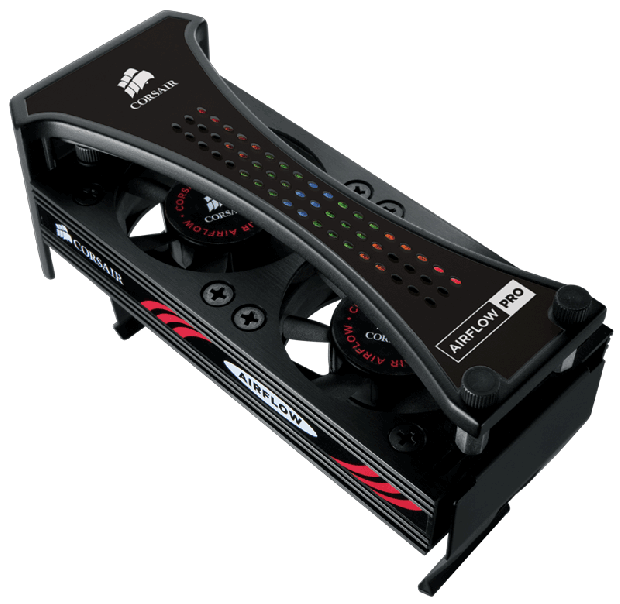 Corsair AirFlow Pro mounts above the Corsair AirFlow fan, and provides a dynamic display of memory activity and temperature for up to six modules. Photos and video of the AirFlow Pro in action can be seen
here
. Corsair's signature LED peak meters are used to reflect memory activity by module and memory rank. In addition, LEDs in the center of the display adjust their color based on the measured temperature of the memory module.
"The AirFlow Pro takes memory activity and parametric display to an awesome new level," stated John Beekley, VP of Technical Marketing at Corsair. "The elegance of the AirFlow Pro implementation, combined with the fascinating display of activity and temperature, makes this device a must-have for any system with a windowed case."
DHX Pro is the Enabling Technology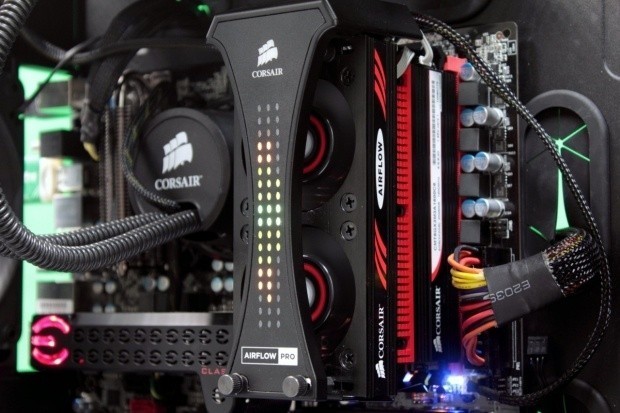 In developing AirFlow Pro, the engineers at Corsair created DHX Pro, an extension to the patented, thermally-optimized DHX design, incorporating measurement expertise gained in developing the technology behind the Corsair XPERT line. These enhancements include circuitry to measure multiple memory parameters, and a 5-pin connector, shown in a detailed photograph
here
, to allow access to the information. The parametric data is collected by a microcontroller-based receiver circuit and processed for logging or display.
Select models of Dominator memory have been shipping with DHX Pro since early this year. A list of Dominator memory with Corsair DHX Pro can be found on
Corsair's Blog
.
Developer Kit Available
The receiver circuit that processes the parametric data from the DHX Pro memory is an open design that can be accessed by other companies, or by end users with a no-cost, royalty-free license. The bill of materials, schematic, and signal definitions will be made available to allow other hardware to monitor and display the parametric data from the memory subsystem. A full developer's kit is expected to be available June 30, 2010.
Corsair AirFlow Pro will be available later this summer from Corsair's worldwide network of authorized distributors and resellers. It is supplied with a two year warranty, and is backed up by Corsair's legendary customer service and technical support.
About DHX Technology
Corsair's innovative new DHX Pro advances their patented DHX and DHX+ technology, adding parametric data measurement and reporting to the advanced capabilities already included. All DHX-based modules feature a custom-designed printed circuit board (PCB) and high-quality heatsinks to cool the front and rear of the memory ICs, as well as the PCB. The cooling fins on DHX+ and DHX Pro equipped modules can be removed, allowing for a range of modular cooling accessories including: extended heatsink fins; the Corsair Hydro Series™ H30 water cooling block; or the Corsair Ice Series™ T30 sub-ambient cooling subsystem, which cools the memory up to 20°C below room temperature for maximum overclocking performance.
About Corsair
Founded in 1994, Corsair supplies high performance products purchased primarily by PC gaming enthusiasts who build their own PCs or buy pre-assembled customized systems. The company's award-winning products include DRAM memory modules, USB flash drives, power supply units, solid-state drives, cooling systems and computer cases.
Last updated: Apr 7, 2020 at 12:02 pm CDT