QNAP Announces iSCSI and NFS VMware Ready Certification of TS-859 Pro iSCSI Turbo NAS
QNAP Systems, Inc., a leading manufacturer of world class Network-Attached Storage (NAS) servers, Network Video Recorders (NVR), and Network Multimedia Player (NMP) today announced its 8-bay tower model TS-859 Pro Turbo NAS has been certified as compatible NFS and iSCSI datastore with VMware vSphere4 (ESX 4.0) virtualization platform. TS-859 Pro Turbo NAS can serve as both IP-SAN and NAS which offers flexibility, ultra-high performance, easy configuration and management, and affordable price points that enable SMB and entry-level Enterprise customers to be able to enjoy the advantages of VMware Cloud Computing environments. VMware vSphere is the industry's first cloud operating system that offers a way to reduce IT costs and increase responsiveness. Shared networked storage is an essential component of a Cloud Computing infrastructure. TS-859 Pro Turbo NAS can be easily integrated into to vSphere and allows the interoperability between VMware virtual machines and QNAP's high performance certified storage.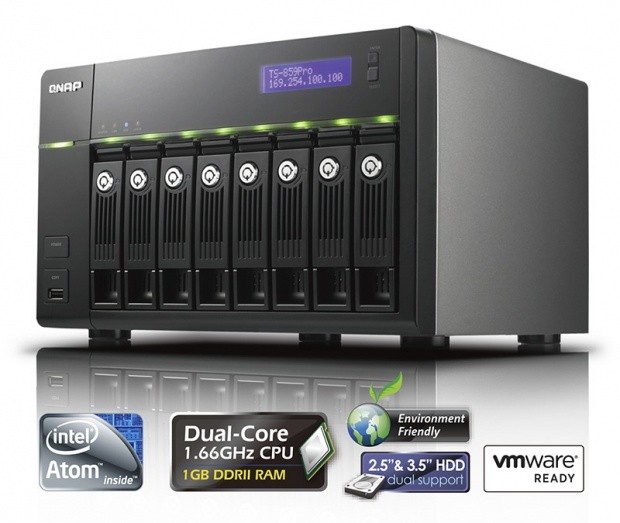 "QNAP provides our business customers high performance, highly reliable networked storage that meets their needs and won't break the budget. The IT administrators of small businesses and workgroups can now have an affordable and powerful alternative for the storage solution in the VMware virtualized environments," said David Tsao, Product Manager of QNAP. TS-859 Pro offers enterprise-level iSCSI features such as SPC-3 compliant, multiple LUNs per target, MPIO, MC/S, and LUN (logical unit number) masking. It offers up to 16TB storage capacity via 8 hot-swappable SATA hard disks, dual Gigabit LAN ports with fail-over, load-balancing and multi-IP setting capabilities. It also features RAID 0/ 1/ 5/ 6/ 5+hot spare/ 6+hot spare configurations which offer higher redundancy. Meanwhile, the advanced RAID management tool facilitates online RAID capacity expansion, online RAID level migration, and RAID recovery maximize system up time. "Besides TS-859 Pro, the entire lineup of TS-x59 series Turbo NAS will be certified soon in June this year," Mr. Tsao added.
For more information on the QNAP Turbo NAS lineup of products, including product spec sheets and application information, please visit
this page
. For more information about TS-859 Pro, please visit
this page
.
Last updated: Apr 7, 2020 at 12:01 pm CDT