Scythe Announces Kaze Server 3.5 Intelligent Fan Controller
The Japanese cooling specialist Scythe hereby announces a scaled version of the popular fan controller Kaze Server in 3.5 "form factor. Kaze Server 3.5 offers the advanced features of its big brother, however due to the smaller layout, it is equipped with only two channels. With Kaze Server 3.5, two fans can be controlled independently, and two temperatures (in either ° C or °F) can be monitored. In addition to manually control the fan speed by knobs, Kaze Server 3.5 Fan.
Controller allows a fully automated and a semi-automatic operation mode. The Auto mode turns the fan on when a freely adjustable temperature is exceeded. In Semi mode, users can set two fan speeds rpm and a temperature value. Depending on whether the measured temperature is above or below the set value, either the first or the second setting is used for the fan.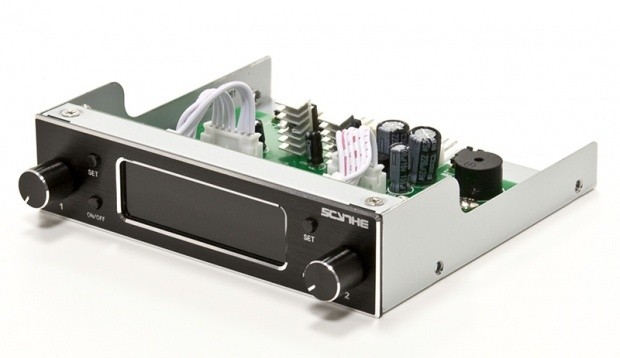 High-quality materials are used when producing Kaze Server 3.5. The front panel consists of brushed aluminum and accentuates the illuminated LCD display in an optimal way. Scythe Kaze Server 3.5 (KS01-BK-3.5) is now available for Euro 25.00 excl. VAT / US$ 36.00 excl. TAX.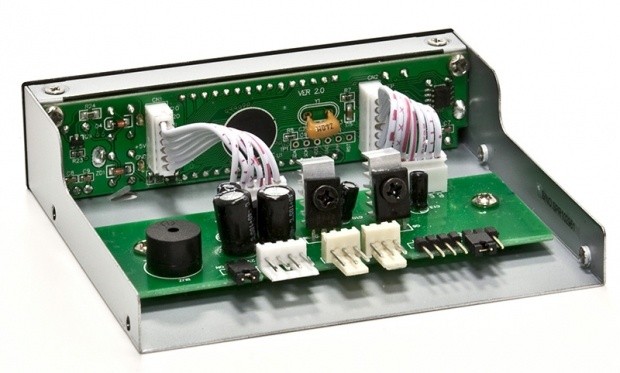 Product Details
Model Name:
Kaze Server 3.5
Model No.:
KS01-BK-3.5
Dimensions:
102 x 25 x 93 mm / 4.02 x 0.99 x 3.66 in
DC Input:
5 V or 12 V (From PC Power Supply Unit)
DC Output:
3.7 V (±10%) ~ 12 V (±10%)
Number of Fan Control Channels:
2 (Max. 1 Ampere and max. 12 W per Channel)
Fan Speed Range
0 - 9,990 rpm (Display: 30 rpm Steps)
Number of Temp Channels: .
2 (0 - 100°C / 32 - 199.9°F)
Weight:
130 g / 4.19 oz.
Accessory:
3x Temperature Sensor Cables, 2x Fan Extension,Power Adapter, Adhesive Tape for Temperature Probes, Mounting Screws
Last updated: Apr 7, 2020 at 12:01 pm CDT