Corsair® Launches Outrageously Fast GTX 2533MHz DDR3 Memory
- Available NOW in limited quantity from Corsair's Web Store -
FREMONT, California, May 6, 2010 - Corsair, a worldwide supplier of high-performance PC components, today announced the launch of the Dominator® GTX4, a new ultra-high-speed module with operation guaranteed up to 2533 MHz. These modules are available immediately, in limited quantity, from the Corsair Online Store.
Producing modules that perform at these extraordinary speeds requires an extremely meticulous, manual screening process, and each module represents the fastest thirty-two RAMs out of literally thousands of candidates. Each RAM chip is individually screened and graded for performance. The top few percent are set aside for assembly onto GTX4 modules, the balance are returned to normal manufacturing. Modules are then carefully assembled using these premium ICs, and only the fastest make the GTX grade.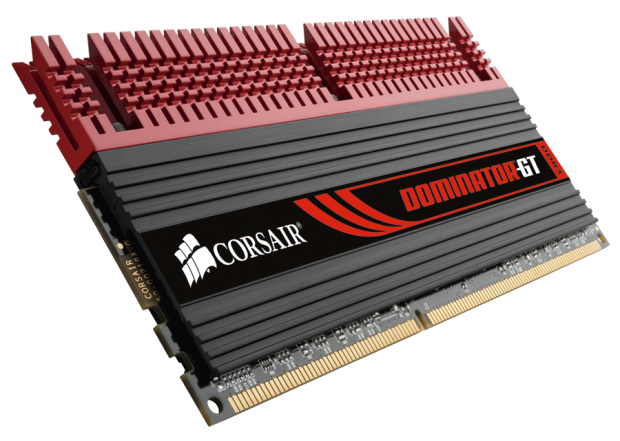 For an inside look on how this screening is done, click
here
.
"The GTX4 modules are truly Corsair's greatest expression of the memory overclocker's art," stated Michal Nowicki, a.k.a. Bachus, master overclocker at Corsair. "These modules are so fast that most CPUs will require sub-ambient cooling to run them at their maximum speed. Each GTX4 module represents hours of my work in the lab, and is authenticated by me personally."
Each GTX4 module is hand-tested in the lab at 2533MHz with latency settings of 9-11-10-30 at 1.65V. The test platform consists of hand-selected Core™ i7 "Lynnfield" CPUs on Gigabyte P55 motherboards.
The GTX4 is currently available on Corsair's web store, at shop.corsair.com. Due to the intensive screening involved, availability of the GTX4 module is very limited. GTX4 modules are supplied with a limited lifetime warranty and are backed up by Corsair's legendary customer service and technical support.
Images of the Corsair Dominator GTX family can be downloaded from
here
.
For more information on Corsair Dominator GTX memory, please visit:
http://www.corsair.com/products/dominatorgt/
About DHX+ Technology
Corsair's innovative DHX+ technology uses specially designed, high-quality heatsinks and a custom-designed PCB that allows both the front and rear of the memory ICs, and the printed circuit board itself, to be cooled. DHX+ technology also allows for the cooling fins to be removed, allowing for a range of modular cooling accessories including extended heatsink fins, the Corsair Cooling™ Hydro Series H30 water cooling block and Corsair Cooling™ Ice Series T30 sub-ambient cooling subsystem, which cools the memory up to 20°C below room temperature for maximum overclocking performance. DHX and DHX+ designs are covered by US Patent number 7,606,034.
About Corsair
Founded in 1994, Corsair specializes in premium, high-performance peripherals and components for personal computers. Corsair's award-winning products are the delight of the world's most demanding hardware enthusiasts. For more information, visit www.corsair.com.
Last updated: Apr 7, 2020 at 12:01 pm CDT