Toshiba Introduces Industry's Highest Areal Density 2.5-inch 750GB Hard Disk Drives
Toshiba Introduces Industry's Highest Areal Density 2.5-inch 750GB Hard Disk Drives
Toshiba Corporation, the pioneer in small form factor hard disk drives (HDDs), today announced two additions to its 5,400 RPM line of 2.5-inch HDDs featuring industry-leading storage capacities. In the standard 9.5 millimeter-high, two-platter design, the MK7559GSXP HDD incorporates both the industry's highest areal density and capacity at 750GB. Sample shipments will start from April, 2010.
The MK7559GSXP HDD features an areal density of 839.1M bit/mm², making it ideal for mobile applications in which capacity is key, including notebook computers and external HDDs. This HDD is well-suited for devices that value high capacity in a smaller footprint with improved acoustic performance and lower power operation compared to larger form factor HDDs. Those applications include all-in-one desktops, televisions and set top boxes.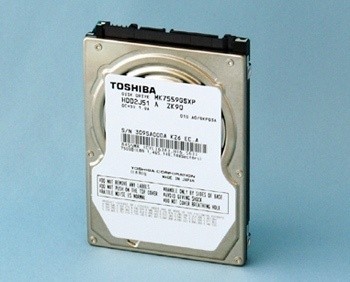 Toshiba also introduced a new three-platter 12.5-millimeter-high platform with the MK1059GSM with 1TB of storage. This capacity point was predominantly supported by larger form factor 3.5-inch HDDs until the introduction of high-end 2.5-inch solutions, providing low-power, space-saving opportunities to system manufacturers looking to differentiate or update their products.
The MK7559GSXP energy consumption efficiency is about 14% less than the previous generation (MK6465GSX, 640GB). These products also adhere to Toshiba's environmental initiatives in their use of power efficiency techniques and components that reduce reliance on harmful chemicals, materials and compounds.
The new products offerings expand Toshiba's mobile HDD product line into the highest-capacity segment of the 2.5-inch HDD market and represent the company's first mobile HDD platforms developed with the combined engineering resources from the integration of Fujitsu's HDD business, which Toshiba acquired last fall.
Key Features:
• Industry's largest areal density of 839.1 Mbit/mm2 (541.4G bit/in2) and 750GB capacity (MK7559GSXP): MK7559GSXP uses Toshiba technology to improve the perpendicular magnetic recording technology head and disk and realize the industry's highest areal density of 839.1 Mbit/mm2 (541.4G bit/in2) and a capacity of 750GB, the industry's largest for a double platter 2.5-inch HDD.
• Improved energy consumption efficiency (MK7559GSXP): Compared to the 640GB (MK6465GSX), the new 750GB HDD model (MK7559GSXP) improves energy consumption efficiency, as defined under the Japanese legal standard; about 14% improvement.
• Environmentally Conscious products:
- Halogen-Free Product: The new drives achieve chlorine and bromine concentrations below 900ppm, and a combined overall total below 1,500ppm.
- Decreased CO2 amount during lifecycle (MK7559GSXP): MK7559GSXP decreases CO2 emissions across the product lifecycle by 280g per year, by decreasing product power consumption and environmental burdens from the raw materials stage.
- RoHS compliant: The new drives comply with the European Union's RoHS directive on the elimination of six hazardous substances in electrical and electronic equipment.
Toshiba Group, a corporate citizen of planet Earth, is committed to realizing a better environment. Guided by "Toshiba Group Environmental Vision 2050" the Group is implementing measures to boost environmental efficiency by 10 times in FY2050, against the benchmark of FY2000. The core target is to reduce projected CO2 emissions by a total equivalent to 117.7 million tons a year by FY2025, through the development and sales of highly efficient power supply equipment and systems, and the manufacture of environmentally conscious home appliances and office equipment. By working to mitigate global warming, make efficient use of resources and control management of chemicals, Toshiba Group creates value for people and promotes lifestyles in harmony with the Earth.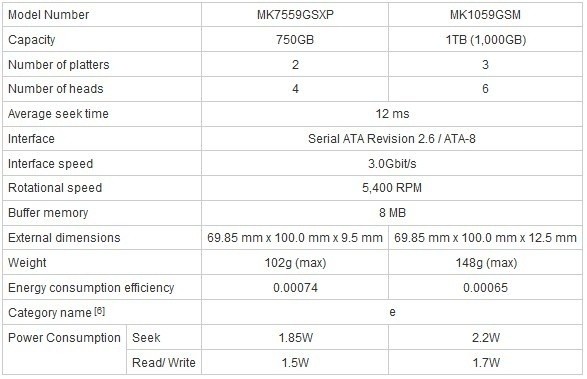 Last updated: Apr 7, 2020 at 12:01 pm CDT
PRICING: You can find products similar to this one for sale below.

United States: Find other tech and computer products like this over at Amazon.com

United Kingdom: Find other tech and computer products like this over at Amazon.co.uk

Australia: Find other tech and computer products like this over at Amazon.com.au

Canada: Find other tech and computer products like this over at Amazon.ca

Deutschland: Finde andere Technik- und Computerprodukte wie dieses auf Amazon.de
Related Tags