AMD's Gamers' Manifesto
Mar 10, 2010 11:08 PM CST
AMD's Gamers' Manifesto
The guiding principles behind the "AMD Gaming Evolved" developer program
AMD today announced
a new name and identify for its long-running developer relations program designed to clearly distinguish it in the hearts and minds of gamers, game developers, and other AMD technology partners. AMD Gaming Evolved is a reflection of AMD's ongoing commitment to gamers and a symbol of the depth of technical and marketing engagement AMD has with game developers the world over.
At the core of AMD Gaming Evolved is the Gamers' Manifesto, a group of guiding principles that define what AMD does for the gaming industry and game developers, and how it does it. It's a set of values that hold AMD true to one of its most important audience: gamers. Here are the four tenants of the Gamers' Manifesto that AMD lives by:
1.
Driving innovation: Innovation is aligned with the needs and wants of the gaming community.
Gamers have seen this time and again from AMD with technologies such as:
Alternate Frame Rendering for multi-GPU gaming in 1999, resulting in higher frame rates
TruForm in 2001, resulting in more detailed 3D models and eventually led to tessellation being adopted in DirectX 11
3Dc in 2004, a technology used for the compression of normal maps, is now a part of DirectX 10 and widely used by game developers
Advances in GDDR3/4/5 memory standards driven by head of the DRAM committee, AMD's Joe Macri, which has contributed to higher frame rates and image quality settings due to greater memory bandwidth
AMD contributing significant IP to the DisplayPort standard
2.
Industry standards: We will participate in the development of standards and wherever possible act quickly to move our innovations into industry standards with the goal of creating a robust, common gaming platform.
Gamers have seen this from AMD with:
OpenGL
JEDEC for GDDR memory
Khronos Group for OpenCL
DirectX
This open standards-based approach differentiates AMD from other vendors who choose to focus on closed, proprietary standards that lock gamers into a particular platform for purposes of driving continued sales.
3.
Supporting PC game developers and the PC gaming industry: We provide the technical and business support game developers need to help the PC gaming industry thrive.
AMD provides the following services to game developers around the world in an open, flexible and mutually beneficial fashion:
Technical engagement, including referenceable source code, and access to game builds for competing vendors
Developer tools
Product development
Lab testing
Marketing programs
Support and integration with our partners
4.
Putting gamers first: At the heart of all of our efforts is the mandate to make gamers' experiences better - those with AMD hardware in their system, or not, deserve the best gaming experience possible.
Where innovation, industry standards and developer support intersect is where gamers are perhaps impacted most. AMD approaches every gamer as a potential AMD customer down the road, and by putting gamers at the heart of virtually everything we do, there are tremendous benefits for all concerned:
AMD's innovation combined with our support of industry standards makes our breakthroughs available to a broad number of gamers
AMD's innovation combined with our efforts to support developers sees our roadmaps aligned to help ensure that developers have the hardware necessary to run the games they want to
Our efforts to support developers and our commitment to industry standards helps create a large install base for PC game developers to address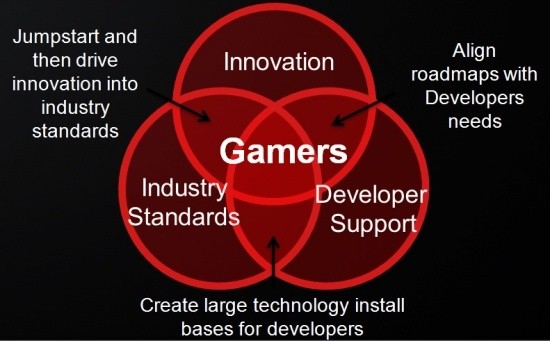 For more information on the AMD Gaming Evolved program, please read my other post from today, here.
Neal Robison is Director, ISV Relationship Management at AMD. His postings are his own opinions and may not represent AMD's positions, strategies or opinions. Links to third party sites are provided for convenience and unless explicitly stated, AMD is not responsible for the contents of such linked sites and no endorsement is implied.
Last updated: Apr 7, 2020 at 12:01 pm CDT
PRICING: You can find products similar to this one for sale below.

United States: Find other tech and computer products like this over at Amazon.com

United Kingdom: Find other tech and computer products like this over at Amazon.co.uk

Australia: Find other tech and computer products like this over at Amazon.com.au

Canada: Find other tech and computer products like this over at Amazon.ca

Deutschland: Finde andere Technik- und Computerprodukte wie dieses auf Amazon.de
Related Tags