Dell Announces OptiPlex 980 Desktop PCs
Dell announced today its most powerful business desktop yet, the new OptiPlex 980, combines superb management and an environmentally friendly design. The new OptiPlex 980 can deliver up to 35 percent greater performance than previous generation OptiPlex systems. The desktop can also lower energy costs with an energy-efficient design and environment-conscious features. New management features to enhance productivity include, virtual remote control capability with an optional Intel KVM (Keyboard, Video and Mouse) and simplified task management with Dell's Update Catalog for Microsoft Systems Center.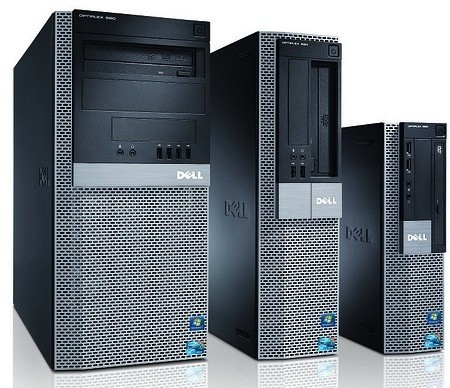 Other features making the OptiPlex 980 an ultimate commercial desktop computing experience include:
• Desktop Performance -- With Intel Core processor technology (Core i5 or Core i7) options and Solid State Drive options for increased performance and reliability.
• Outstanding Energy Efficiency -- With a 90 percent energy efficient power supply, the OptiPlex 980 can use less energy, helping to lower energy costs.
• Designed with the Environment in Mind -- meets important government environmental standards including Energy Star 5.0 and EPEAT Gold, EPEAT's highest rating. OptiPlex 980 also contains more post-consumer recycled content than previous generations.
• A Quiet Workplace -- the only commercial desktop with an optional Dell EcoKit that reduces system noise by up to 50 percent, helping to reduce workplace noise and increase productivity.
• Advanced Security & Systems Management -- management innovation including the latest generation of Intel vPro remote management support, which improves productivity with a robust set of enterprise security options that are the hallmark of the OptiPlex brand.
Offered in three different chassis options (minitower, desktop and small form factor), the OptiPlex 980 will be available worldwide in the coming weeks at a starting price of $807 USD.
Last updated: Apr 7, 2020 at 12:01 pm CDT