MSI Unveils 890GXM-G65 Micro-ATX Mainboard
Leading mainboard and graphics card maker, MSI, launches their brand new 890GXM-G65 mainboard using the AMD 890GX chipset to fulfill the increasing demand for perfect Home Theatre Personal Computers (HTPC). In addition to tailoring the latest AMD Phenom II processors, the 890GXM-G65 provides full support for the DirectX 10.1 and UVD 2.0 multimedia standards to significantly enhance high-definition audio and video effects. Along with a wide variety of output interfaces, exclusive MSI technology, and native SATA 6Gb/s and USB3.0 interfaces, the AMD 890GXM-G65 allows users to build a quality HTPC combining high performance and high stability.
MSI has specifically equipped the AMD 800 Series with the latest OC Genie Lite easy-overclocking technology to meet the multimedia requirements of power users. By launching the BIOS Setup, consumers can use the OC Genie Lite to automatically adjust the CPU and IGP clock to enhance overall performance to 15%* in order to experience and enjoy optimal performance at your fingertips with neither special computer knowledge nor additional expense.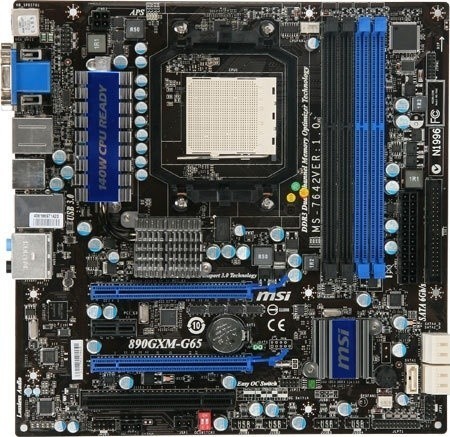 Superb Stability: Military Class Components
Apart from enhanced performance, the 890GXM-G65 is equipped with high-quality, military-grade electronic components, including solid state capacitors (Solid CAP) for extending mainboard life and the solid state choke (SSC) for preventing hiss from the UHF or high frequency noise in order to enhance system stability. Even during long operating hours, the system will not hang or lag due to overheating.
Fully-equipped Digital Output Connectors: HDMI & DVI
In order to fulfill consumer demands for convenience and full-featured multimedia equipment expansion, the 890GXM-G65 mainboard with the integrated ATI Radeon HD 4290 Graphics core is equipped with both a digital video interface (DVI) for digital video display and a high definition multimedia interface (HDMI) for digital video and audio output to help consumers simplify wiring connections. With only one HDMI cable, consumes can enjoy high definition video and audio at the same time to fully meet the HD multimedia demand of the next generation.
Lossless 24bit/192kHz HD Audio
Furthermore, in order to re-present the sound effects of BD videos on HTPCs, MSI has equipped the 890GXM-G65 with the latest HD Audio codec to deliver 7.1 channel surround sound effect and the ultimate live effects corresponding to the BD movies.
Highly-efficienct HeatPipe Thermal Design
In addition to high standards and exceptional functions, MSI has adopted a high-efficiency HeatPipe design on the 890GXM-G65 as a total solution for the mini case HTPCs to enhance ventilation in order to maintain an average operating temperature at 52 degrees C, even when the system is at full load.
Upholding the spirit of technology innovation and perseverance to perfection, MSI continues to provide multifaceted customized solutions for consumers. The MSI 890GXM-G65 mainboard is an integration of various exclusive and unique technologies and exceptional standards that helps consumers build an HTPC combining full functions, outstanding performance and excellent system stability, thus making the mainboard the best choice for building your HTPC.
For more information, visit the
product page
.
Last updated: Apr 7, 2020 at 12:01 pm CDT