Team Group's New Packaging for Supreme USB Disk - Easy on Carbon Footprint for the Earth
Futuristic Supreme USB Disk Packaging - New Visual Experience
In response to the worldwide trend of carbon footprint reduction, Team Group Inc. introduced a whole new environmentally friendly packaged Supreme USB disk series. The brand new design comes with recyclable paper in place of plastic. This shows Team Group's dedication to environmental issues, social responsibility and obligation, as well as its determination towards perpetual ecological consciousness!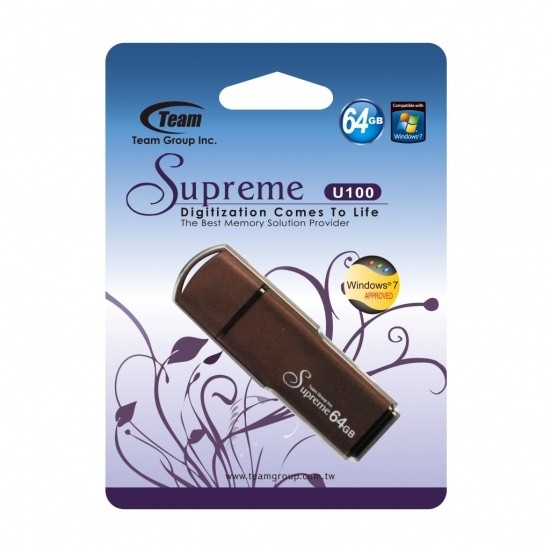 The new packaging materials are SGS certified and contain no lead or mercury. They also conform to RoHS standards as ecological materials and lessen the burden to the environment brought by commercial packaging. The purple design is still identical to Team Group's portable USB disk series, but fused with innovative environmental ideas. This packaging is 50% smaller in size and greatly reduces resource consumption during production and delivery.
From the memory card, Fusion portable disk, Jelly USB series to Supreme USB series, Team Group Inc. is incessantly committed to green energy, ecological packaging and bringing a brand new visual feast to our consumers!
About Team Group
Team Group Inc. was established in 1994 and specializes in the manufacture of memory modules, USB disks and digital Flash memory. With over ten years of experience in the production and sale of computer peripherals, its portfolio includes its own Team branded memory modules, memory cards, USB disks and solid state disks (SSD). We also provide ODM services to many well-known international brands. As part of our long-term international strategy, Team Group has made Taiwan the center of the group's manufacturing, R&D and marketing operations. We are now actively developing our brand through advanced technology, high quality, flexible production, a global sales network and comprehensive after-sales support.
Last updated: Apr 7, 2020 at 12:01 pm CDT