CyberPower's LAN Mini H2o V2 SFF Gets Super Performance Refresh
with Intel Core i3/i5/i7 CPUs, P55 Chipset, Direct X 11 Graphics
BALDWIN PARK, CA (February 16, 2010) - CyberPower Inc., www.cyberpowerpc.com has packed additional power and performance into its compact LAN Mini H2o V2 PC with new updates that feature the latest Intel LGA 1156 Core i3/i5/i7 CPUs with P55 chipset and super-fast and smooth Direct X 11 graphics.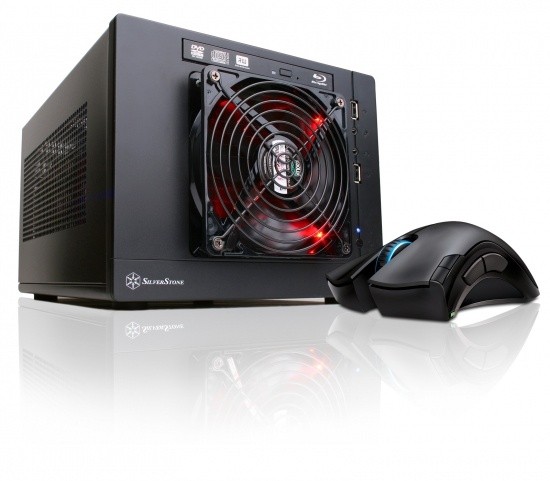 One of the world's smallest and fastest water-cooled PCs can now rival any full-size desktop gaming rig with CyberPower's enhancements. The new LAN Mini H2o V2 measures only 11.25 (L) x 8.75 (W) x 7 (H) inches and weighs under 10 pounds. It is built with LAN gaming in mind.
The system gets a major performance boost from the addition of the unique mini-ITX DFI LANParty MI P55-T36 motherboard, Intel Core i7 turbo-boosted 860 CPU, and ATI's Radeon 5670 video card, which features DirectX 11 graphics and Eyefinity 3-monitor display technology.
The LAN Mini H2o V2 is designed with ABS II CPU Smart upgrade technology. The system is also among the first overclockable mini-ITX gaming rigs. As its name implies, the LAN Mini H2o V2 features Asetek's LCLC water-cooling solution, which fits neatly inside the compact Silverstone SST-SG05 chassis to keep the processor cool and to provide excellent overclocking capabilities.
Other features include 4GBs of DDR3 memory (upgradeable to a maximum of 8GBs), 500GB hard drive, onboard WiFi support, an optional Blu-ray drive, 7.1 Channel HD Audio with Creative X-FI technology, and built-in HDMI port. With these features, the LAN Mini H2o V2 can easily adapt from a compact gaming machine to a home entertainment PC.
The LAN Mini H2o V2 has a base price of $995. You can customize your LAN Mini H2o V2 with hard drives and SSDs options, overclocking friendly Kingston HyperX memory, and other customization and upgrade options available. The system is pre-loaded with Microsoft Windows 7 Home Premium 64-bit to enhance your gaming and multimedia experience. The LAN Mini H2o V2 is now available at CyberPower and is backed by CyberPower's 3-year warranty and lifetime tech support.
About CyberPower Inc.
CyberPower Inc. www.cyberpowerpc.com was founded in 1998 and has emerged as one of the leading custom computer system manufacturers. Headquartered in Baldwin Park in Southern California, CyberPower manufactures and distributes a complete line of custom built gaming machines, notebook systems and high performance workstations to meet the unique needs of gamers, businesses, government agencies, educational institutions and other end-users. For more information contact: Sales (800) 707-0393; Email cyberpower@cyberpowerpc.com.
Last updated: Apr 7, 2020 at 12:01 pm CDT