ASRock P55 Deluxe3 - Real Computing with ASRock True 333 Motherboard
February. 5, 2010, Taipei, Taiwan - ASRock Inc. the leading motherboard manufacturer proudly launch one of its True 333 series motherboard - P55 Deluxe3. Continuing in P55 Deluxe tradition, P55 Deluxe3 offers the awesome features for PC DIYers and gaming enthusiasts, such as NVIDIA Quad SLI and ATI Quad CrossFireX as well as the most desirable SATA3 (6Gb/s), USB3.0 (5Gb/s), eSATA3 technologies.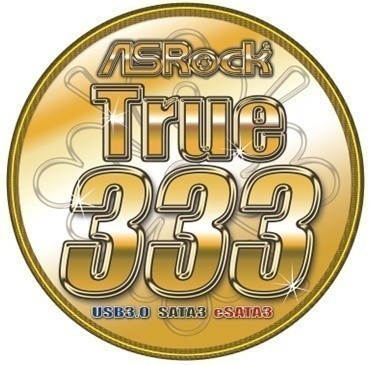 P55 Deluxe3 supports Intel® CoreTM i7 / i5 / i3 and Pentium® G6950 Processors with Intel® Turbo Boost technology in the LGA1156 Package. Unprecedentedly designed with Intel® Turbo Boost Monitor which allows you to monitor the CPU Turbo Boost frequency more conveniently! P55 Deluxe3 is an ATX form factor motherboard, features ASRock DuraCap (2.5 x longer life time) - 100% Japan-made all solid capacitor design. Equipped with 4 DIMM slots capable of supporting world's fastest DDR3 2600+(OC) memory, GLAN, 2 PCIE 2.0 x 16 slots (single at x16; dual at x8 / x8), supporting ATI™ CrossFireX™, Quad CrossFireX™, NVIDIA® SLI® and Quad SLI®. For audio aspect, P55 Deluxe3 features 7.1 CH, VIA VT2020 audio codec with Premium Blu-ray audio support (DAC with 110dB dynamic range). Ultimate components include C.C.O., 2 x SATA3 6Gb/s connectors, 1 x Powered eSATAIII/USB2.0 connector, 2 x USB3.0 connector, smart switch design, Dr. Debug and CPU/Chassis Fan Multi-Speed Control.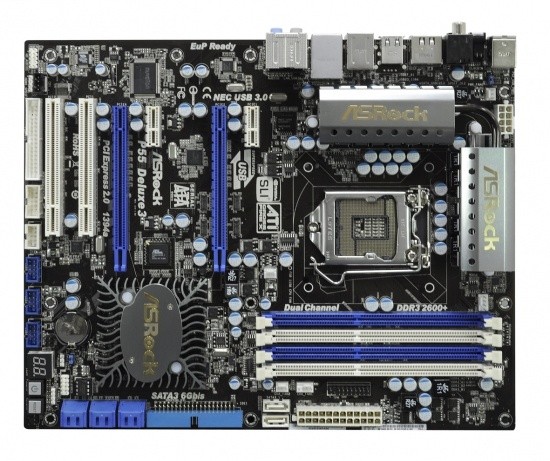 For software aspect, P55 Deluxe3 is compatible with Instant Boot, Instant Flash, Smart BIOS, EZ OC, OC Tuner, OC DNA, IES, Good Night LED and ASRock Software Suite. Certainly, ASRock P55 boards are all compatible with Microsoft® Windows® 7. To realize the green computing concept, ASRock P55 Deluxe3 has also achieved the European EuP standard.

ASRock Exclusive True 333
The ASRock True 333 Onboard motherboards born to bring the truth and presents an exactly true computing standard by combining the world's highest speed transfer technologies. As the industry's leader, ASRock is keen on providing the most demanding technology and has once again proof its innovative capability by True 333 series mainboards. ASRock True 333 series motherboards deliver the unmatched performance with the onboard acceleration of the latest USB3.0 from NEC with advanced 10X faster speed 5Gb/s; SATA3 technologies from Marvell with up to 6Gb/s data transfer speed, and the most convenient connectivity of eSATA3 devices.

ASRock True 333 Bridge

As we know, Intel P55 Chipset only provides PCI-E 1.0 x1 bandwidth (2.5GT/s). However, it is definitely not enough for the latest SATA3 (6Gb/s) and USB 3.0 (5 Gb/s) bandwidth. Other 333 series motherboard may use the PCI-E 2.0 lane which comes from CPU for the SATA3 and USB 3.0, but it will suffer the PCI-E VGA slot downgrade from x16 to x8 or can't run SLI/CrossFire. Thus, ASRock integrates the True 333 Bridge on P55 Deluxe3 and it provides the PCI-E 2.0 bandwidth for SATA3 and USB 3.0. Choose
ASRock P55 Deluxe3, you don't have to suffer anything!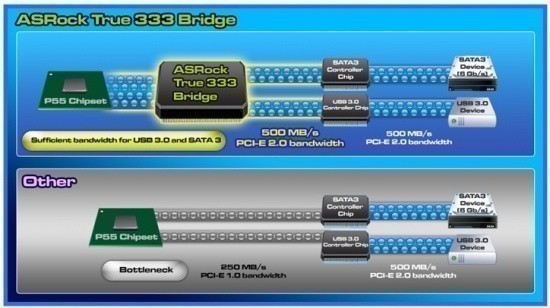 ASRock True 333 P.K. Other 333
Do you desire the real speed computing? Of course, you do! ASRock True 333 series motherboards can run the PCI-E for VGA card, SATA3 and USB3.0 at full speed together at the same time. However, other 333 series motherboards can only run one of them at full speed at one time. If you are an eagle-eyed user looking for the true exciting computing, ASRock True 333 series motherboard can satisfy you with a completed and qualified PC experience!

Last updated: Apr 7, 2020 at 12:01 pm CDT