Seamlessly Store, Share, and Secure Digital Content Everywhere Around the Home
ASUS Home Server TS mini Embedded with Windows® 7 Delivers Instant, Intuitive, and Simplified Data Management
Sydney, Australia 27 January 2010 - ASUS has launched its home server in Australia which leverages the Windows ® 7 operating system to improve data management, enhance media streaming and better utilise home networks. The ASUS Home Server TS mini is designed to simplify a user's digital life by centralising photos, music, videos and other digital content from multiple home computers onto a single repository-thereby enabling easy storage, sharing and securing of digital assets within a home or remotely via the Internet. Equipped with an Intel® Atom processor and operating on the Microsoft® Windows™ Home Server platform, it simplifies management and protection of digital content. The TS mini features 2GB of DDR2 memory, Gigabit Ethernet support, up to 4TB of internal storage, exclusive 500GB of online storage, six USB ports and two eSATA ports to meet future growth requirements.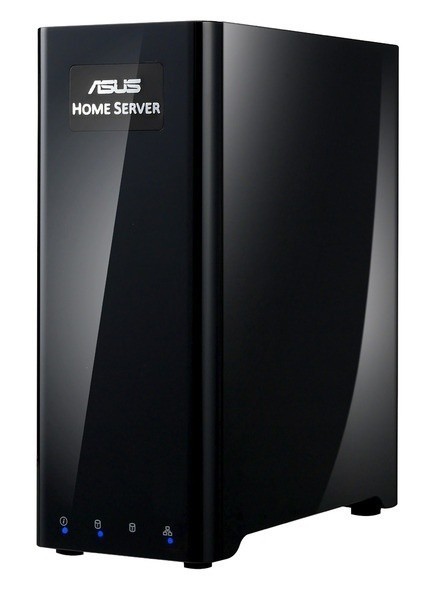 Easy Backup and Restoration of Home Computers
The TS mini functions as a data management centre, automatically backing up data from up to 10 computers daily. In a recovery scenario, users can easily restore files or bring computers back online by loading the latest information saved on the TS mini.
Convenient Content Sharing at Home and Easy Remote Access
The TS mini makes it easy for users to stream photos, music, video and other digital content to various devices in the home including TVs, computers, media PCs and gaming consoles-for comprehensive home entertainment access. By using the Remote Access feature, users away from home can also leverage on their personal Windows Live™ accounts to access the TS mini and its content. Additionally, they can stream music and multimedia content through the online connection.
Large Data Capacity with Exclusive Web Storage
For additional storage capacity, the TS mini provides a year of free 500GB storage over the Web. Users can boost their storage or synchronise backups online for improved data security. Additionally, users can save large peer-to-peer files directly to the web storage and host files which can be linked to from social media sites such as Facebook and Twitter.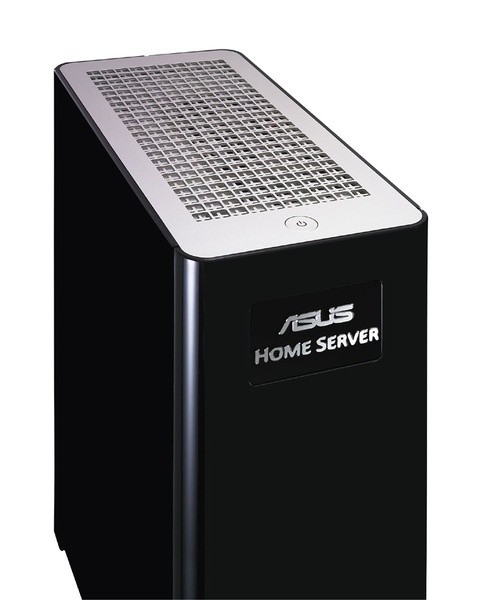 Enhanced Data Access and File Management
The TS mini acts as a user-friendly management console that consolidates data from various sources. With six USB and two eSATA ports-the highest number of I/O interfaces on a home server-the TS mini lets home users directly back up, synchronise and manage their files across various USB and eSATA devices, as well as the internal hard drive.
Improved Home Security with Easy Surveillance Features
By connecting IP cameras to the TS mini, users can easily set up a home surveillance system. With its online connectivity, the TS mini lets users view live or recorded clips of home surveillance footage while they are away-to ensure their families are safe.
Better Energy-saving Features
In line with global energy-saving initiatives, the TS mini was developed to use minimal power-consuming 24.5W of power when in idle mode and 27.9W when in operation. Such energy-saving capabilities make the TS mini a good choice for 24-by-7, non-stop data centre operations.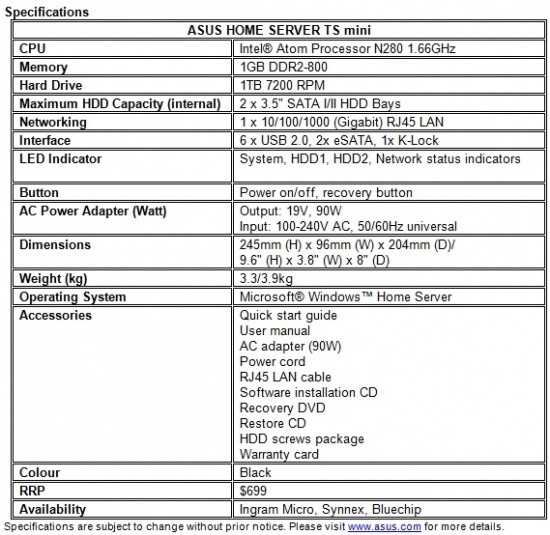 About ASUS
ASUS is a leading company in the new digital era, with an extensive product portfolio that includes notebooks, netbooks, motherboards, graphics cards, optical drives, desktop PCs, servers, wireless solutions, mobile phones and networking devices. Driven by innovation and committed to quality, ASUS designs and manufactures products that perfectly meet the needs of today's digital home, office and person. ASUS won 3,056 awards in 2008, and is widely credited with revolutionizing the PC industry with the Eee PCT. With a global staff of more than ten thousand and a world-class R&D design team, the company's revenue for 2008 was 8.1 billion U.S. dollars. ASUS ranks among BusinessWeek's InfoTech 100, and has been on the listing for 12 consecutive years.
Last updated: Apr 7, 2020 at 12:01 pm CDT