Club 3D's New Feature-Rich HD Gaming Graphics Card HD5670 Now Available
AMSTERDAM, The Netherlands - January 14, 2010 - Club 3D B.V. today announced HD 5670 availability in stores. Club 3D's newest offer out of the latest HD 5000 graphics cards series, HD 5670 is your start into HD gaming and extends Club 3D's multimedia and gaming graphics cards segment spanning more than 10 years of successful market with ATI and NVIDIA graphics cards.
As Club 3D's start into HD gaming graphics card, the HD 5670 provides amazing performance with ATI Redwood XT graphics processor combined with the latest DirectX 11 gaming technology to dominate with your games. Club 3D HD5670 supports ATI Avivo HD Technology for the best possible video and image quality and ATI Stream Technology to accelerate your applications to fulfill your multimedia demands.
Club 3D HD5670 is available first in two different versions, 512MB and 1024MB model offering the best memory technology, GDDR5 currently available on the market. Both models clock with 775MHz core speed and 4000MHz memory speed and use 400 Stream Processors. As proof of the HD 5670 commitment to outstanding multimedia and gaming value, Club 3D HD 5670 offers and affordable price for everyone - from the home and office users to photo and video editing users, to the demanding gamer.
Club 3D customers can expect an ultra quiet 90mm cooling fan with low fan speed which keeps the GPU cool in all situation no matter how demanding an application or game is . Compared to a previous generation HD 4670 graphics card, the Club 3D HD 5670 reaches 60% more performance (Average 3Dmark06 Score at 2560x1650 resolution).
HD 5670 Key Features:
• Compliant with DirectX® 11 and earlier revisions
• ATI Stream technology
• Supports OpenGL
• ATI CrossFireX™ multi-GPU support for highly scalable performance
• ATI Avivo™ HD video and display technology
• Advanced dynamic power management with ATI PowerPlay™ technology
• HDCP-Capable
Price and availability
HD 5670 has a manufacturer's suggested retail price of USD$145/100 Euro and is available as off today.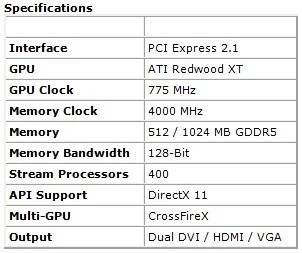 About Club 3D
By proving to be a reliable long-term partner to our customers, Club 3D manages to be one of the leading VGA Companies in Europe. Club 3D products are going from; Desktop to Workstation PC´s, from Gaming to Multimedia PC´s, from Family to Office PC´s. Club 3D VGA cards will continue to be the best solution for you. Innovative products will meet the market requirements and close partnership with our Graphical Processor Vendors will guarantee successful operation now and in the future.
Last updated: Jul 27, 2022 at 03:53 am CDT