TRENDnet Launches the 150Mbps Wireless N Home Router
TORRANCE, Calif. - January 8, 2010 - TRENDnet, a best-in-class wired and wireless networking hardware brand, today announces the launch of the 150Mbps Wireless N Home Router, model TEW-651BR, which offers advanced wireless n security and performance at a reduced price.
The 150Mbps Wireless N Home Router delivers the highest level of security with up to six times the speed and three times the coverage of wireless g solutions. Quickly install the router and use it with TRENDnet wireless n adapters to receive the full benefits of wireless n. Connect Ethernet enabled peripheral devices to the four port Fast Ethernet switch on the back of the router.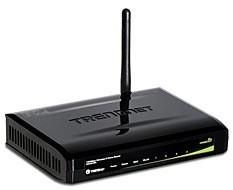 The latest in wireless encryption and a secure firewall protects your valuable data. Router setup is fast and intuitive. Wi-Fi Protected Setup (WPS) integrates other WPS supported wireless adapters at the touch of a button. Gone are the days of entering complicated encryption codes. Simply press the WPS button on the TEW-651BR, and then press the WPS button on a compatible wireless adapter. Confirm you would like to connect and the devices automatically exchange information and connect.
"This router is designed to deliver a highly secure and stable wireless n experience at an affordable price," stated Brian Chu, IT Director of TRENDnet. "Despite its modest price tag, this router features a few advanced functions that other entry level routers may not offer. Advanced filters can restrict individual computer access to the Internet and to specific Websites. As well, Dynamic DNS support connects to DDNS providers over a dynamic IP address."
The 150Mbps Wireless N Home Router, model TEW-651BR, will be available from online and retail partners this month.
The MSRP for the TEW-651BR is US $39.99.
About TRENDnet
TRENDnetis an award winning global brand, dedicated to providing a completeline of high quality yet affordable networking solutions for small tomid-sized business and home users alike. Founded in 1990, TRENDnetis headquartered in Torrance, California, and maintains branch officesin Europe, Central America, South America and Asia. TRENDnet productsare sold in over 125 countries. The TRENDnet brand is consistentlyrecognized for high quality, exceptional performance and unparalleledsupport. For more information visit www.trendnet.com or call +1 (310) 961-5500.
Last updated: Apr 7, 2020 at 12:00 pm CDT