TRENDnet Launches the 150Mbps Mobile Wireless N Router
TORRANCE, Calif. -January 7, 2010-TRENDnet, a best-in-class wired and wireless networking hardware brand, today announces the launch of the ultra compact 150Mbps Mobile Wireless N Router, model TEW-655BR3G. The 150Mbps Mobile Wireless N Router connects to the Internet either using a traditional hard wired connection, or by cutting the cables and connecting with a compatible USB modem from a 3G/4G Internet service provider such as SprintTM, AT&TTM, or VerizonTM.
Designed for people on the go, this compact router connects to the Internet from any 3G/4G cellular phone signal. No installation required, simply plug the 3G/4G USB modem into the router to share an Internet connection with up six times the speed and three times the coverage of a wireless g solution.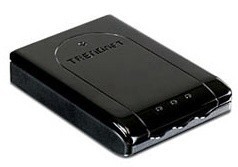 No more scrambling to find Internet access while on the go. Now you can share the Internet at a job site, while carpooling to work, in between flights at the airport, and even while on vacation with the family. Consumers only need to have an active Internet plan with their respective third party 3G/4G Internet service provider. The latest wireless encryption protects your valuable data. Wi-Fi Protected Setup (WPS) integrates other WPS supported clients at the touch of a button.
"Designed for real-life portability, TEW-655BR3G has a rechargeable and replaceable 1.5 hour lithium ion battery," stated Sonny Su, Technology Director of TRENDnet. "The connection speed users receive from their 3G Internet provider currently tops out around 3Mbps. The router's 150Mbps wireless n technology provides ample bandwidth for all connected users."
The 150Mbps Mobile Wireless N Router, model TEW-655BR3G, will be available from online and retail partners in early April.
The MSRP for the TEW-655BR3G is US $99.99.
About TRENDnet
TRENDnet is an award winning global brand, dedicated to providing a completeline of high quality yet affordable networking solutions for small tomid-sized business and home users alike. Founded in 1990, TRENDnetis headquartered in Torrance, California, and maintains branch officesin Europe, Central America, South America and Asia. TRENDnet productsare sold in over 125 countries. The TRENDnet brand is consistentlyrecognized for high quality, exceptional performance and unparalleledsupport. For more information visit www.trendnet.com
Last updated: Apr 7, 2020 at 12:00 pm CDT