GIGABYTE USB 3.0 Motherboard Microsite Helps Develop SuperSpeed Ecosystem
-- Offers info on GIGABYTE USB 3.0 motherboards and 3rd party SuperSpeed products --
Taipei, Taiwan, December 23, 2009 - GIGABYTE TECHNOLOGY Co., Ltd, a leading manufacturer of motherboards, graphics cards and other computing hardware solutions today announced the launch of the GIGABYTE USB 3.0 microsite to help drive adoption of the new SuperSpeed interface within the PC industry. The new microsite is a source for information about USB 3.0 features, performance, GIGABYTE motherboards with USB 3.0 capabilities, compatible 3rd party USB 3.0 devices and also 'where to buy' information.
GIGABYTE has been the leader in USB 3.0 motherboards ever since they were
first to launch USB 3.0 motherboards
on October 27th, 2009 with the introduction of 7 new Intel® P55 chipset models. GIGABYTE went on to launch the
GA-X58A-UD7
with USB 3.0 on November 19th and on November 26th was
first with 3 new USB 3.0 motherboards for the AMD platform
.
"GIGABYTE currently offers 11 USB 3.0 motherboard models that cater to a wide range of high-end and mainstream price points and preferences, and we're planning on launching several new entry level models in the near future so that more GIGABYTE motherboard users will be able to benefit from SuperSpeed data transfer," said Tim Handley, Deputy Director of Motherboard Marketing at GIGABYTE Technology Co. Ltd. "We hope to work with every USB 3.0 device vendor to ensure compatibility and the best quality products and experience for our customers."
GIGABYTE USB 3.0 motherboards that are currently available or will be soon include: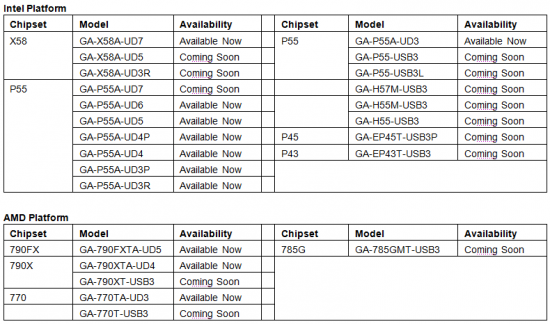 3rd party USB 3.0 devices that have passed GIGABYTE compatibility testing can be found on the GIGABYTE USB 3.0 microsite from the following links: www.usb3motherboard.com or usb3.gigabyte.com.tw. If you are a USB 3.0 device manufacturer and would like GIGABYTE to test your product, please contact us through your GIGABYTE representative or at USB3@gigabyte.com.tw.
About GIGABYTE Upgrade Your Life
GIGABYTE, headquartered in Taipei, Taiwan, is known as a global leading brand in the IT industry, with employees and business channels in almost every country. Founded in 1986, GIGABYTE started as a research and development team and has since taken the lead in the world's motherboard market. On top of motherboards and graphics accelerators, GIGABYTE further expanded its product portfolio to include notebook and desktop PCs, digital home entertainment appliances, networking servers, communications, mobile and handheld devices, servicing every facet of people's lives at home or business. Everyday GIGABYTE aims to "Upgrade Your Life" with the most innovative designs and impeccable quality and services. Visit www.gigabyte.com.tw for more information.
Last updated: Apr 7, 2020 at 12:00 pm CDT