-- GIGABYTE and Futuremark Host P55 OverclocKing Challenge and 10K Challenge --
-- Prizes to be awarded in multiple categories by GIGABYTE, Antec, Kingmax, GlacialTech, and Enermax --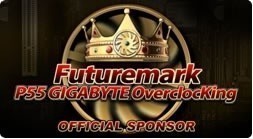 Taipei, Taiwan, November 11, 2009 - GIGABYTE Technology CO., LTD., a leading manufacturer of motherboards and graphics cards, today announced two new challenges for PC overclockers everywhere. Utilizing a GIGABYTE P55 motherboard and Intel Core™ i5 or i7 CPU, contestants worldwide will compete for the overall "OverclocKing" title. The top three overall 3DMark 06 scorers worldwide on a GIGABYTE P55 motherboard will be crowned OverclocKing, along with some pretty amazing hardware loot from GIGABYTE, Antec, Kingmax, GlacialTech and Enermax. There will also be a weekly lucky draw for contestants entered in the OverclocKing challenge, with winners receiving a GIGABYTE motherboard.
In addition, this year will feature a brand new competition called the 3DMark 10K Challenge. This special competition is for anyone using any Intel chipset based motherboard. The first 3 competitors who submit a 3DMark score of exactly 10,000 will get a ton of new hardware from GIGABYTE, Antec, Kingmax, GlacialTech and Enermax. Contestants can use ANY version of 3DMark to enter. Even if they don't make the first three, contestants should still send in their 10K score, as they will automatically be entered for a lucky draw at the end of the competition to win one of several new GIGABYTE motherboards.
"GIGABYTE is thrilled to partner with Futuremark to host the second annual OverclocKing challenge." commented Tony Liao, Associate Vice President of Marketing at GIGABYTE TECHNOLOGY CO., LTD. "Even though the P55 platform is billed as a mainstream platform, overclockers worldwide have been able to set some amazing new overclocking records using their GIGABYTE P55 motherboards, so we are excited to see who will walk away with this year's OvercloKing title."
"Overclocking is growing in popularity all the time and on average we see a new benchmark result submitted to our database every 4 seconds. This worldwide competition provides two levels of competition, our new 3DMark 10K Challenge as well as the usual overall top scorer. We will be surprised if records are not broken using the latest P55 motherboards," said Jukka Mäkinen, Futuremark's Vice President, Products and Services.
Grand prizes for overall top score and 10K Challenge include a GIGABYTE GA-P55A-UD6 Motherboard and GV-N26SO-896I VGA card, Antec Twelve Hundred gaming case and TruePower Quattro TPQ-1200 Watt power supply, "KINGMAX" DDR3 2200 Dual Channel Overclock Memory Module, GlacialTech X-wing Cooling Pad, and (2) Enermax 12cm Apollish Fans.
Everyone who enters and posts a 3DMark score of exactly 10K (10,000) will receive a copy of Futuremark's newly announced Shattered Horizon™ zero gravity multi-player first person shooter game for PC (prizes limited to the first 200 contestants scoring 10K). In addition, everyone who posts a score for the 10K challenge will automatically be entered for a lucky draw to be held every day with the winners receiving a copy of Shattered Horizon (30 winners will be announced).
http://www.gametrailers.com/video/raid-on-shattered-horizon/57737
http://www.shatteredhorizon.com
The contest will run from Nov 1st through Nov 30th, so click below for more details about the contest and how to enter:
http://www.futuremark.com/community/competitions/gigabyteoverclocking/
Twitter:
http://twitter.com/yougamergirl
About 3DMark06
3DMark06 is a benchmark program from Futuremark that measures the 3D gaming performance capabilities of PCs. 3DMark software has been downloaded more than 45 million times. The 3DMark06 edition is currently the world's most popular benchmark and can be downloaded for free from the Futuremark website.
http://www.futuremark.com/benchmarks/
Last updated: Apr 7, 2020 at 12:00 pm CDT