MAINGEAR Unleashes a Paradigm SHIFT in High Performance Computing
"SHIFT" personal supercomputer redefines computing performance, design, and supportSystem highlights include elegant design, advanced cooling, maximum expandability, and angelic customer support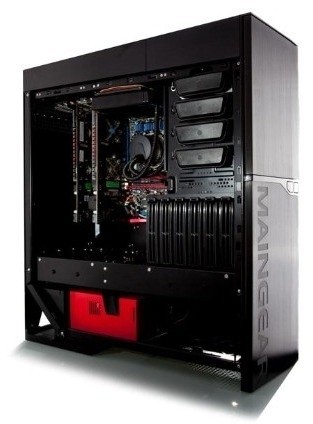 Union, New Jersey - November 2, 2009 - MAINGEAR Computers, award-winning builders of custom computers for PC gamers and enthusiasts, unveils SHIFT, the everyday supercomputer that will reshape the current landscape of high performance computing. SHIFT rethinks the status quo of the high end PC industry with rigs that often feature an array of plastic, bling, and commoditized components and offers every day supercomputing in a sophisticated design with sublime, elegant lines, unmatched performance, optimal airflow, and limitless upgradeability. By harnessing the power of the graphics processing unit (GPU), the SHIFT can speed up everyday tasks like photo and video editing, transcoding videos for portable media devices, and upscaling standard definition video.
"The SHIFT bucks the trend of plastic, bloated, commodity PCs. It's a statement of our commitment to performance, reliability, and support." said Wallace Santos, CEO and Founder of MAINGEAR. "Featuring vertical airflow, all the cooling necessary for today's high performance, and backed by the best technical support team in the business, MAINGEAR is committed to maintaining our lead in the market. The SHIFT Personal Supercomputer is positioned to take advantage of all the next generation technology in GPU computing to greatly enhance the customer experience."
Elegant Design - Shift's aluminum skin provides clean, elegant lines while housing a tank-like steel skeleton. Devoid of unnecessary bling, Shift was crafted to add an element of sophistication and simplicity to any room in the house.
Advanced Cooling - Shift employs a unique approach to cooling with bottom to top airflow, aggressive liquid cooling, and a 90 degree rotation of the motherboard.
Expansion - MAINGEAR's forward thinking, design includes features including user accessible expansion slots, full eATX motherboard support, full sized 5.25" optical drives, multiple SATA hard drive configurations, and up to 2 2.5" HDD in each 3.5" HDD Drive bay.
Angelic Support - In an industry often characterized by poor customer support, MAINGEAR goes against the grain and offers world class support for each of its systems. Should any issues arise, each SHIFT owner is able to talk directly to the builder that assembled their system and can take advantage of virtual on-site support through an internal remote-desktop setup with privacy guarantees. Additionally, MAINGEAR offers on-site support should the situation warrant it.
"Customer service is paramount at MAINGEAR." said Chris Morley, CTO. "Angelic Service is our premium blend of pre- and post-sales support including non-commissioned sales, US-based, in house technical support, virtual on-site remote diagnostic technology, and on-site support solutions. We're delivering the total package."
MAINGEAR will also be unveiling a version of the SHIFT geared specifically towards creative professionals, video production, audio editing, and CAD before the end of the year. Consumers can purchase the Shift at MAINGEAR's Web site www.maingear.com or order by phone at (888-MAINGEAR). The base price for the Shift is $2,199 and comes with MAINGEAR's premium Lifetime Labor and Phone Support with 3 year hardware warranty and is backed by the best in-house support team in the country.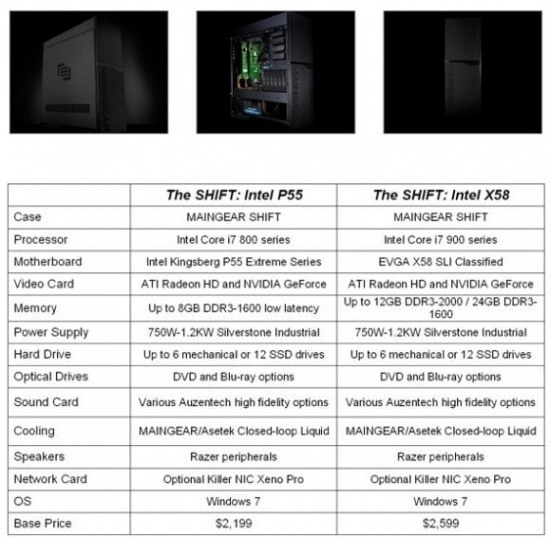 About MAINGEAR
MAINGEAR is the premier high performance systems integrator in North America. MAINGEAR custom builds gaming, home office, mobile, multimedia, small business and 3D workstation solutions of the highest quality, which have won them many editors' choice awards in every major computer publication such as C-Net, [H]ard|OCP, Maximum PC, CPU Magazine, etc. For more information on MAINGEAR, please visit www.maingear.com or call, toll-free, (888)624-6432.
Last updated: Apr 7, 2020 at 12:00 pm CDT