The Vector RS is a vibrant addition to the Fractal Design range of PC cases. With its sharp angles and uncompromising design it sets the stage for a perfect mix of attitude and ability. An expressive ARGB-strip wraps the front and top in a synchronized, continuous run, customizable and controllable through standard 5V RGB connections and software or via the included Adjust R1 controller. The front panel's striking counter-angled intakes are designed to trap noise without restricting airflow, resulting in a case that breathes like it's open - but sounds like it's closed.
Looking deeper, you'll find the Vector RS upholds Fractal Design's dedication to extreme versatility. With eleven HDD and four SSD positions (six + two brackets included), it is ready to take on any build you throw at it. The modular layout supports advanced multi-radiator water cooling, catering to even the most ambitious builds straight out of the box. And for hardcore performance enthusiasts, the top TG panel is easily swapped for a ventilated steel panel (included) that adds 420/360 mm top radiator support and three fan positions for a total of nine.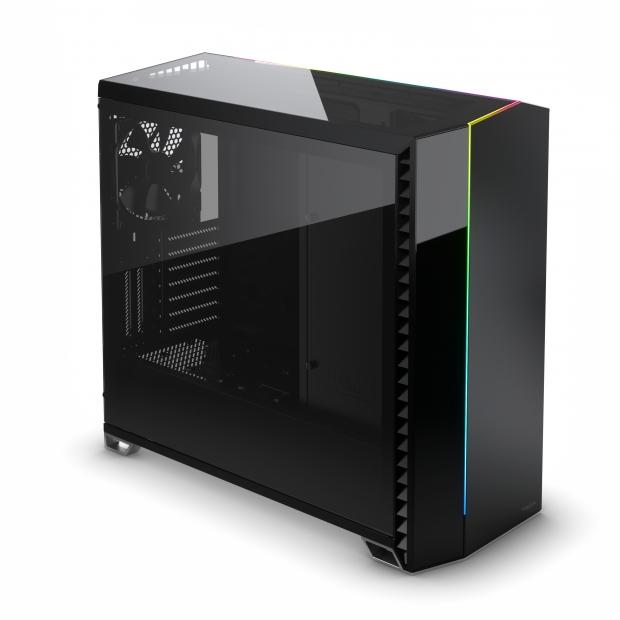 With customizable effects, adaptable layout, and interchangeable elements, the Vector RS becomes what you want it to be: The perfect showcase for your system.
Key Features
Tinted, bolt-free tempered glass on three sides

Interchangeable top panel easily converts between tempered glass and filtered ventilation

Counter-angled intake vents designed to trap noise with minimal airflow resistance

Customizable ARGB LED effects wrapping the top and front panels in a synchronized, continuous span

Set colors and effects via standard 5V RGB motherboard connection or included Adjust R1 controller

Six HDD and two SSD mounts included with a total of 11 HDD and 4 SSD positions (additional Type-C brackets sold separately)

Three pre-installed Fractal Design Dynamic X2 GP-14 140 mm fans for optimal airflow

Up to nine fan positions with clear airflow paths for maximum cooling capacity

Extensive water cooling support with room for radiators up to 420 mm in the top, 360 mm up front and 280 mm in the base

Ventilated PSU shroud conceals cables and provides additional SSD mounting options