COSTA MESA, Calif.: 14 Aug 2019 - Overall satisfaction for smart thermostats has increased for the third consecutive year, as more customers are finding their thermostats to be easy to install and use, according to the J.D. Power 2019 Smart Thermostat Satisfaction Report,SM released today. Overall satisfaction among smart thermostat customers is 889, up 12 points from 2018.
"Smart thermostat manufacturers' focus on easing the installation and use of smart thermostats has been paying off," said Christina Cooley, At Home Intelligence Lead at J.D. Power. "The next step is for these brands to find ways to better communicate to their users just how much money they are saving once installed, to drive the overall value of the thermostat."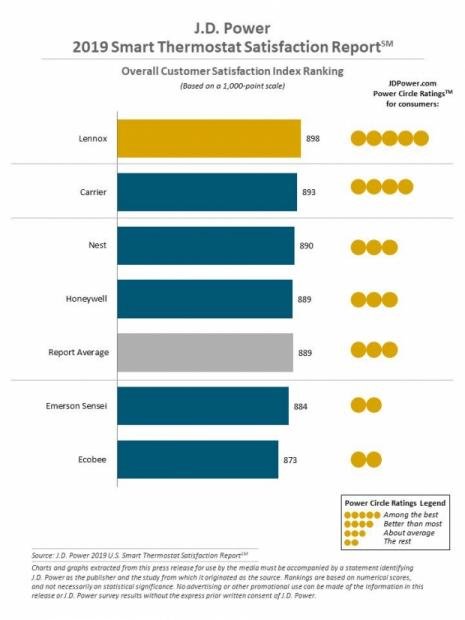 The 2019 Smart Thermostat Satisfaction Report measures overall customer satisfaction with smart thermostat brands among those who purchased a smart thermostat system within the past 12 months. Satisfaction is examined across 10 factors (listed in order of importance): ease of use; ease of install/setup; reliability; energy efficiency; price paid; effectiveness of heating/cooling; internet connectivity; usefulness of app; variety of features; and customer service. Satisfaction is calculated on a 1,000-point scale. The report is based on responses from 1,179 customers and was fielded in June through July 2019.