August 12th, 2019 - SAPPHIRE Technology announces the first of its PULSE RX 5700 Series Graphics Cards that offer PC gamers the combination of great performance at an affordable price point. Focusing on what gamers' need, the PULSE RX 5700 cards come with a pivotal feature set that delivers a great gaming experience powered by AMD's new extreme RDNA gaming architecture. Impressive clock speeds, efficient cooling and durable design is the trademark of the new series. Today's announcement represents an exciting new opportunity for Gamers looking for a PC Graphics upgrade.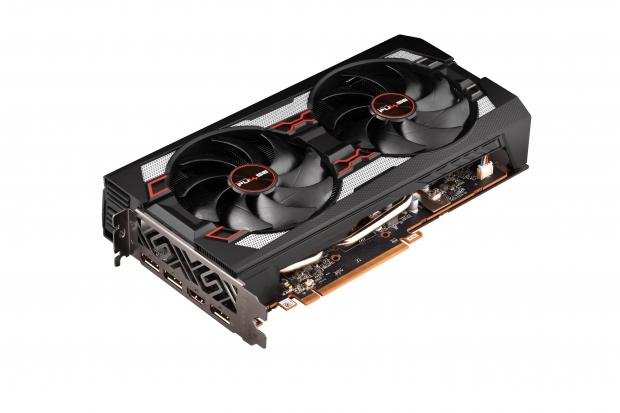 The Beating Heart of a Gamer's PC
The PULSE Radeon RX 5700 Series is all about providing PC users with an immersive gaming experience and great value for money. Starting with the SAPPHIRE PULSE Radeon RX 5700 XT, this factory-overclocked model is dedicated to customers who want a future proof card that delivers incredible visual fidelity, lightning-fast performance and an advanced technology feature set to power the latest AAA and eSports titles.
Built on the ground-breaking all-new AMD RDNA gaming architecture and 7nm process technology, the PULSE RX 5700 XT comes with 2560 stream processors and three clock settings including a Boost-clock of up to 1925MHz and a NEW Game clock of 1815MHz and 8 GB of GDDR 6.
The industry proven SAPPHIRE Dual-X cooling solution has been finely tuned. Powered by two newly designed silent dual ball-bearing fans and a state-of-the-art radiator design has enabled SAPPHIRE to realise improved performance with cooler and quieter operation. Designed to maintain temperatures under 75 C while gaming and run up to 10 dBA quieter, the streamlined form of SAPPHIRE's 95mm blades mean greater airflow and superior heat sink coverage at lower noise compared to the Radeon RX 5700 reference designs.
Intelligent Fan Control ensures fan speed is intelligently controlled to keep the GPU, memory, PWM IC and other components as low as possible in temperature to balance performance, and fan noise.
The SAPPHIRE PULSE Radeon RX 5700 also packs a punch for gamers on a slightly smaller budget. This model is powered by 2304 stream processors that run at a Boost-clock up to 1750MHz and Game Clock of 1700MHz. Like the RX 5700 XT version this model includes the quiet Dual-X two-fan solution, with an improved easy fan swap Quick Connect system that means they're easy to remove, clean and replace, with just one screw holding them securely in place.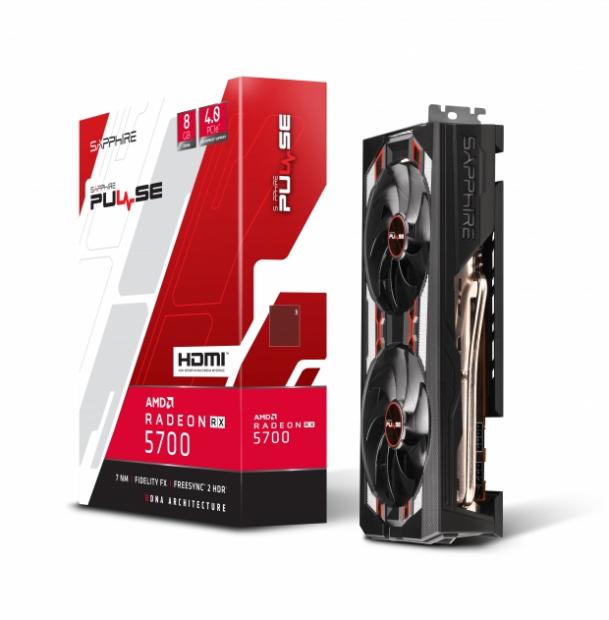 Cutting Edge TriXX Boosts Gamers FPS
SAPPHIRE wants gamers to get the best out of their graphics card, and SAPPHIRE's TriXX software is the key to unlocking its power. SAPPHIRE TriXX with its revamped and deceptively-simple interface features the New TriXX Boost feature. In order to gain higher game performance with given hardware, gamers can choose to run their game at a lower resolution. Traditionally the available resolutions choices are fixed to a small set of options. With TriXX Boost, additional custom resolutions are created, based on user input, which gives much more fine-grained control over the quality vs performance tradeoff.
TriXX Boost enables gamers to run games at a higher FPS by reducing the rendering resolution and up scaling the final output image by integrating Radeon Image Sharpening. This powerful tool besides being easy to use, sees up to a 15% performance improvement in 3D Mark and 10% performance improvement in popular games the resolution is adjusted from 2560x1440 to 2304x1296; or up to 22% performance improvement in 3D Mark up to a 15% improvement in games when adjusting the resolution from 3840x2160 to 3456x1944.
More than just a Graphics Card
SAPPHIRE PULSE RX 5700 Series graphics cards come equipped with a slew of modern technologies and durable components that ensure a long and stable life. The SAPPHIRE DNA, SAPPHIRE COOLTECH and SAPPHIRE PLUS feature sets are there to ensure the best possible gaming performance. They encompass all the all of the extra features that make our SAPPHIRE Boards so special and unique with superior cooling technologies to keep your temperatures low at high framerates, and quality components that prolong the life of our products through quality, robustness & reliability.
Long-Life Capacitors, Fuse Protection and 12 Layers of PCB design that deliver stable, reliable, and steady performance are applied across the entire lineup. For cooling, each card is designed with Robust VRM Cooling and have a high thermal conductivity pad on the back-plate to take away the heat efficiently and effectively. One of the hottest parts on a next-gen graphics card is generated from memory. A Robust Memory Cooling solution has been integrated into PULSE RX 5700 series graphics card to cool down memory with a specially designed independent cooling module.
In addition, the SAPPHIRE PULSE RX 5700 XT and PULSE RX 5700 cards also feature the come with a solid and stylish Aluminum Backplate. The all-aluminum backplate provides additional rigidity that guarantees nothing bends and dust stays out. It also helps cool your card by increasing heat dissipation.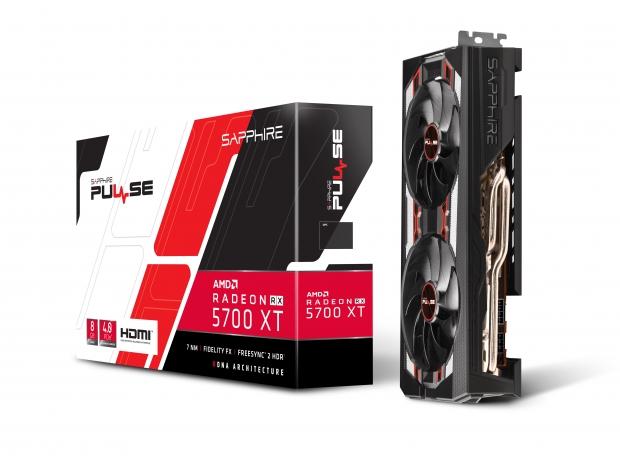 Immersive Gaming with Powerful New Radeon Features
SAPPHIRE PULSE RX 5700 Series graphics cards harness the AMD RDNA gaming architecture that supports high-speed GDDR6 memory and provides PCIe 4.0 support. PULSE RX 5700 graphics cards offer powerful new Radeon features that elevate 1440p gaming, including:
Radeon Image Sharpening (RIS) - Brings crispness and clarity to in-game visuals that have been softened by other post-process effects in DirectX 9, 12, and Vulkan titles.
Radeon Anti-Lag - Optimized for eSports, improves competitiveness by decreasing input-to-display response times by up to 31 percent.
Key features:
New TriXX Boost Feature delivers up to 15% performance increase in popular games

Improved PCB, power and cooler designs ensures gamers have superior clock speeds

PULSE cards deliver cool, quiet and affordable performance

Components efficiently cooled by finely tuned Dual-X technology

New SAPPHIRE COOLTECH, DNA and PLUS technologies feature sets

New extreme AMD RDNA gaming architecture powers PULSE RX 5700 cards to new heights!
Availability
SAPPHIRE Pulse RX 5700 Series graphics cards - Radeon RX 5700 XT and Radeon RX 5700- are all shipping now, and will be available from selected SAPPHIRE e-tailers and retailers worldwide.