Adorable Dough Creatures Are in for a Bake-Em-Up Beating This Fall - Bake 'n Switch Hits Steam Early Access Later this Year
Tue, Jul 9 2019 8:10 PM CDT
Kuala Lumpur, Malaysia -- July 9, 2019 -- Streamline Media Group today announced that its new, original IP Bake 'n Switch will hit Steam Early Access in Autumn 2019 with a full commercial launch planned for PC and porting to other platforms further down the development pipeline. Bake 'n Switch is a couch co-op and PVP game where strange, adorable dough creatures must be sacrificed to the Guardians of Dough in order to appease their hunger, thus gaining their help in fighting the Scourge!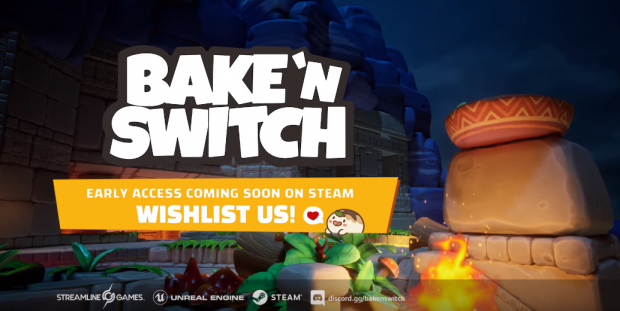 "Bake 'n Switch is our third original IP and we're proud of what the team has put together. It highlights the growing capability of Streamline's continued expansion into video game development," said Alexander L. Fernandez, CEO of Streamline Media Group. "From original game development, co-development, and art creation, Streamline continues to innovate and show the world what can be done in opportunity markets such as Southeast Asia."
Check out the new Bake 'n Switch Early Access announcement trailer here:
"We're excited to start nearing the Early Access launch on Steam for Bake 'n Switch and we can't wait to hear what players think of it," said Stefan Baier, COO of Streamline Media Group. "As a local multiplayer party game, it's important for us to receive community feedback so that we can develop a more exciting, fun, and engaging experience, so let us know what you think!"
A long time a-dough in a bakery far, far away, The First Bakers came together to defeat the Scourge. The Scourge threatened their precious food source - unreasonably cute and blobular dough creatures that roam the land. To save their world, The Bakers must combine the dough creatures - the bigger the dough, the higher your score - and bake heaving mounds of them in the oven before time runs out! Journey through the levels to summon the Guardians, satiate their insufferable munchies and gain their aid to defeat The Scourge. Little did the Bakers know what the Guardians demanded in return...
Four Bakers are planned for Early Access launch, including Ginger, Parsley, Thyme and Rosemary with more planned to help fend off Stickies, Spores and Mouldies through levels of co-op or PVP baking pandemonium! Throughout the Early Access phase, Streamline plans to update Bake 'n Switch based on player feedback, so add it to your Wishlist on Steam today to receive beta updates and help continue to build and shape the game!
Last updated: Sep 25, 2019 at 05:39 pm CDT
Related Tags