June 28, 2019 -- Leiting Games has announced the latest update for well-received story-driven zombie survival RPG Fury Survivor: Pixel Z has arrived and brings with it new features as well as playable characters of YouTubers Nukazooka, RackaRacka, and King Vader. The update is released alongside featured videos from each YouTuber including a zombie survival guide, zombie fatalities, and the catchy "zombie slide".
Having just released in early June, Fury Survivor was highly anticipated during its pre-registration where it received an impressive million plus sign-ups. The story-rich mobile RPG brings satisfying zombie gore together with the crafting, character interaction and story not often found in titles of the genre. The game's protagonist an ex-Marine searching for his family faces a world that has been ravaged by the deadly Z virus. Players will meet other characters throughout their perilous search for their family and will be able to construct their own sustainable refuge for themselves as well as to help other survivors along the way.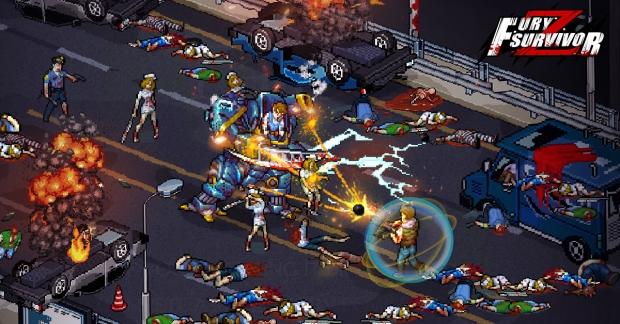 The game's latest update includes various optimizations as well as the new features Ult Rescue which unlocks for players at level 58, Mod and the playable characters of Nukazooka, RackaRacka, and King Vader. Players will also be able to interact with all of the newly added characters and talk to them throughout their survival journeys. To celebrate the incorporation of their personas in the game Nukazooka, RackaRacka, and King Vader created live-action zombie themed videos. Players wanting to prep their survival skills can check out Nukazooka's survival guide here, while those wanting a more storied approach can watch the catchy "Zombie Slide" by King Vader, and finally, those fans of zombie hack n' slashes can take a look at RackaRacka's zombie fatalities.
Fury Survival: Pixel Z features stylized pixel art graphics and satisfying hack n' slash death animations as well as a surprisingly emotional story rich with RPG elements. Players can get Fury Survivor now for free by downloading the game on Google Play, the App Store, or by visiting the official Facebook page.
A list of features includes:
Fight off throngs of zombies in bloody hack n' slash fashion

Fight for survival as you search for your family in a gripping story-driven game

Collect various weapons and gear

Navigate through traps and a variety of undead enemies

Scavenge for food, water, and supplies

Learn a variety of crafts

Create your own sustainable refuge

Interact with other survivors

Stylized pixel art graphics
Additional assets for Fury Survivor Z can be found here.