Thermaltake Level 20 RGB BattleStation Gaming Desk & TOUGHRAM RGB DDR4 Memory Launch
May 28, 2019 8:45 PM CDT
Thermaltake, the leading PC DIY premium brand for Cooling, Gaming Gear and Enthusiast Memory solutions, today held the Thermaltake Press Conference at COMPUTEX Taipei 2019. Thermaltake Chairman and CEO Kenny Lin announced the new marketing idea "Game with Your BattleStation" during the press conference.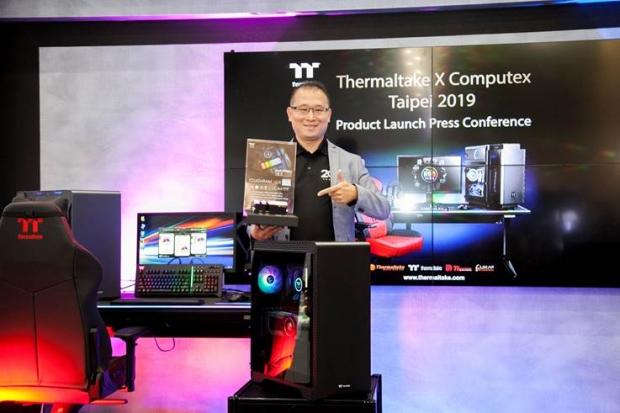 He also revealed the new Level 20 RGB BattleStation Gaming Desk with the A700 Full Tower Chassis, Level 20 RGB Gaming Keyboard, Level 20 RGB Gaming Mouse & Mousepad, H1 RGB Headset & E1 Headset Stand, and X- COMFORT Real Leather Gaming Chair in Burgundy Red. Furthermore, the TOUGHRAM RGB DDR4 Memory 3000/3200/3600MHz 16GB officially launches at COMPUTEX. The complete BattleStation setup is able to sync with the TT RGB PLUS Ecosystem.
This year also marks Thermaltake's 20th Anniversary, and today Thermaltake is proud to be able to provide users the full BattleStation experience. Finally, Thermaltake was also honored with the presence of Taiwan's Minister of Economic Affairs Shen Jong-chin. Thermaltake Chairman & CEO Kenny Lin provided a short booth tour and introduction of Thermaltake's key products at COMPUTEX. For more information on Thermaltake Group please visit the Thermaltake booth at COMPUTEX Taipei 2019 (Taipei Nangang Exhibition Center, 4th floor, Booth #M120) or visit https://computex.thermaltake.com/2019/.
Further details please refer to the attached press release and image.
We would appreciate it if you could kindly introduce us in your publication or website. Should you have any query or need high-res images, please contact us, thank you!
Related Tags