VR Movement System for Oculus Quest and Oculus Rift S
May 27, 2019 12:52 AM CDT
Developer and Publisher: 3lb Games Release Date: 22 May 2019 Website: http://3lbgames.com/vr-movement-systems/https://assetstore.unity.com/packages/tools/input-management/vr-movement-system-for-oculus-47292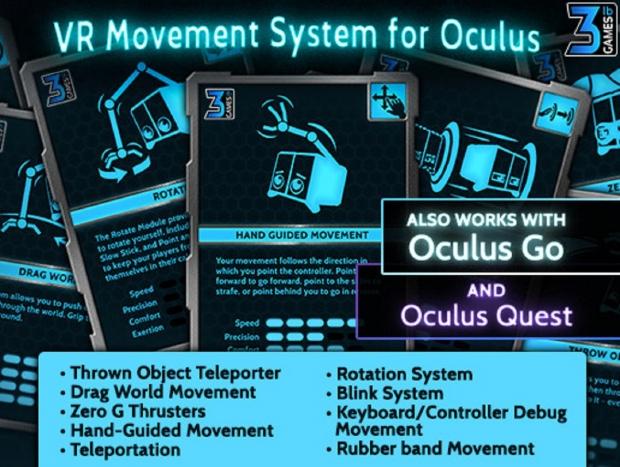 Price: $20 USD Email: support@3lbgames.com Social Media:
Facebook: https://www.Facebook.com/3lbGames/
Twitter: https://twitter.com/3lbGames
LinkedIn: https://www.linkedin.com/company/2455819?trk=tyah
YouTube: https://www.YouTube.com/user/3lbgames
PRESS CONTACT: Name: Colin McComb
Email: cmm@3lbgames.com
Description
Great news for Oculus developers! Our top-rated VR Movement System for Oculus is updated for Quest and Rift S, and it's available in the Unity Asset Store!
It comes with low-poly models of the Oculus Quest/Rift S controllers that you can use in your project, maps easily, and has a ton of great documentation. Plus, we're giving you the tools to choose a movement style that fits your game or experience best!.
We've added some other new features as well, like:
Oculus Go Support (some modules not compatible)

Thrown Object Teleporter

Drag World Movement

Zero G Thrusters

Module System
Other features include:
Low-Poly Touch Models

Thrusters

Hand-Guided Movement Mode

Point-and-Shoot Rotation Mode

Teleportation Mode

Flight/Grounded Mode

Stick Rotation Mode

Quick Stick Rotate Mode

Blink Mode System

Keyboard/Controller Debug Movement

Line Arc System

Rubber Band Movement

VR Fade System
Shake off the shackles of teleportation! 3lb Games' VR Movement System for Oculus is available in the Unity Asset Store for only $20.
About 3lb Games We specialize in VR application development, with assets available on the Unity store for cross-platform use (including our revolutionary movement system). We've partnered with Monomi Park to bring their indie hit Slime Rancher to VR in Slime Rancher VR Playground. We're also in the process of developing VR Sea Legs, a VR application designed to reduce nausea in VR by getting users accustomed to a wide variety of movement systems. In addition to all that, we develop Java Enterprise applications, creative game solutions, and offer narrative consulting. Also, we're pioneers in the arm-replacement game genre: first with Sharks for Arms, and now with Space Dragon. We're looking at tentacles next.
Related Tags