CoolIT Systems Announces Liquid Cooling Solution for Intel Server System S9200WK
May 7, 2019 7:18 PM CDT
Calgary, Alberta. May 7, 2019 - CoolIT Systems (CoolIT), global leader in energy efficient liquid cooling solutions for HPC, Cloud and Hyperscale markets, today announced an Intel integrated liquid cooling solution to support the Intel Server System S9200WK.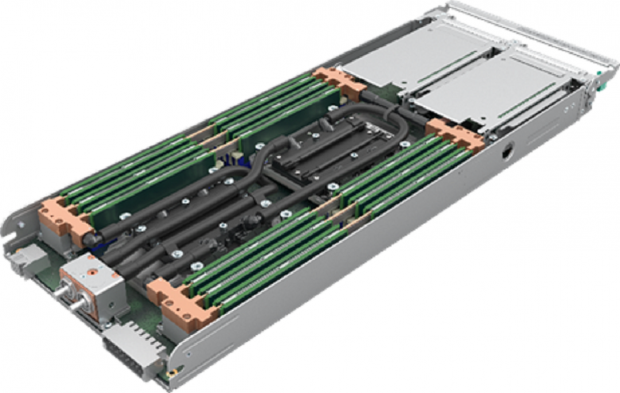 The Intel Server System S9200WK uses CoolIT's innovative Rack DLC coldplate solution, featuring patented Split-Flow design. The liquid cooling solution for this 2U, four node server manages heat from the recently announced dual Intel Xeon Platinum 9200 processor CPUs, voltage regulators, and memory. A sample of the DLC enabled Intel server will be showcased by CoolIT during ISC19 from June 17-19 in Frankfurt, Germany.
"Direct Liquid Cooling is increasingly becoming the norm for server OEMs looking to enable high performance processors while meeting or exceeding energy efficiency targets", says CoolIT Systems Director of Data Center Solutions, Brandon Peterson. "This Intel server platform showcases how liquid cooling can be implemented without sacrificing serviceability."
CoolIT's Rack DLC technology is the leading choice for tier 1 server OEM's around the world. With the highest performing coldplates on the market, and a complete supporting product ecosystem including Coolant Distribution Units and Rack Manifolds, HPC data centers around the world are using CoolIT technology to enable higher performance servers, increase rack density, and lower their total cost of ownership.
About CoolIT Systems:
CoolIT Systems, Inc. is the world leader in energy efficient liquid cooling technology for the Data Center, Server and Desktop markets. CoolIT's Rack DLC platform is a modular, rack-based, advanced cooling solution that allows for dramatic increases in rack densities, component performance, and power efficiencies. The technology can be deployed with any server and in any rack making it a truly flexible solution. For more information about CoolIT Systems and its technology, visit www.coolitsystems.com.
About International Supercomputing Conference (ISC19) :
The ISC High Performance conference will bring together over 3,500 researchers and commercial users, and 160 exhibitors, ready to share their experiences with the latest technology and products of interest to the high performance computing (HPC) community.
For more information, visit: https://www.isc-hpc.com/
Related Tags