Run and gun platforming boss rush extravaganza Mechstermination Force is out now on Nintendo Switch
Skovde, Sweden - April 4th, 2019 - Independent developer Horberg Productions has launched its latest boss rush run and gun platformer Mechstermination Force on the Nintendo Switch eShop for /$11.99 / 10.99. Featuring incredible boss battles, tight gameplay and beautifully colourful visuals, Mechstermination Force will test your skills to the limit.
In Mechstermination Force, evil MegaMechs have taken control of the world, but a small group of brave soldiers led by Captain Johnson fight for the future of humanity, they call themselves the Mechstermination Force. Step into the boots of one of 4 new rookie recruits, and join the Mechstermination Force to lead the charge against the mechanical menace.
Directed by Bertil Horberg, creator of the critically acclaimed Gunman Clive series, Mechstermination Force is an action platforming boss rush experience that will have you blasting giant mechs to kingdom come. Shoot your way through 14 massive bosses, each one a completely unique run and gun platforming challenge. Each boss will need to be jumped or climbed on while avoiding their attacks. Damage their armour and shields with your blaster to expose their weak points, then deliver the killer blow with you melee weapon attack. With awesome upgrades to your weapons and cool items like the Magnet Gloves and Boost Boots, Mechstermination Force is an intense and varied boss rush extravaganza that will surprise and challenge players alone or with a friend in local co-op.
Built on Horberg Productions' custom engine with beautiful 3D graphics featuring hand-painted textures, running at a silky smooth 60fps at a resolution of 1080p docked or 720p in handheld mode and featuring 2 player co-op in all control configurations, Mechstermination Force has been built and optimised from the ground up for Nintendo Switch.
"Making it so each enemy in Mechstermination Force could function as both a boss fight and a platforming level was quite the creative challenge, but I'm very proud with how turned out," said Bertil Horberg, Director of Horberg Productions. "I think its combination of influences from the classic run and gun to more contemporary titles has resulted in a game that plays unlike anything else out there. I'm thrilled that Nintendo Switch players will finally get a chance to check it out!"
Praise for the Gunman Clive series:
"We recommend it as a must buy for fans of action platformers, especially those that enjoy retro nods and winks with their modern day experiences - this one's a straight shooter."- NintendoLife (9/10)
"...Gunman Clive emerges as one of the best platformers on the 3DS."- Pocket Gamer (4.5/5, Gold Award)
"The Wii U has been home to quite a strong collection of sidescrollers: New Super Mario Bros. U, Donkey Kong Country: Tropical Freeze and DuckTales: Remastered to name but a few. Gunman Clive HD Collection proudly joins that lineup, offering a fantastic experience at a fraction of the cost of those titles."- Nintendojo (A-, Editor's Choice Award)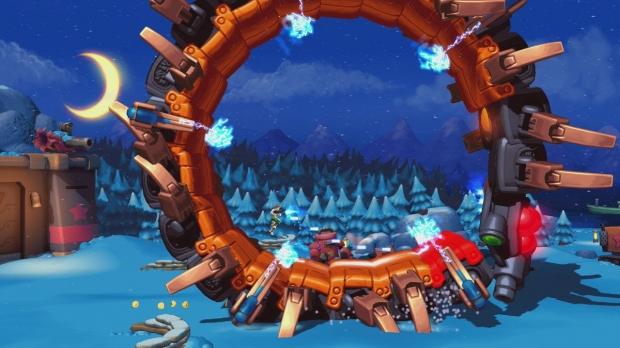 Mechstermination Force is available now on the Nintendo Switch eShop, priced at /$11.99 / 10.99. Horberg Productions' previous title, Gunman Clive HD Collection, is also available on the Nintendo Switch eShop, priced at /$3.99 / 3.59.
About Horberg Productions:
Horberg Productions is a small indie game studio located in Skovde Sweden, founded in 2011 by Bertil Horberg and has created the Gunman Clive series. In 2017 the studio started expanding and is currently a 3 person team, their next title is Mechstermination Force, launching on Nintendo Switch on April 4th.
Twitter: @bertilhorberg
PRICING: You can find products similar to this one for sale below.

United States: Find other tech and computer products like this over at Amazon.com

United Kingdom: Find other tech and computer products like this over at Amazon.co.uk

Australia: Find other tech and computer products like this over at Amazon.com.au

Canada: Find other tech and computer products like this over at Amazon.ca

Deutschland: Finde andere Technik- und Computerprodukte wie dieses auf Amazon.de
Related Tags