London, 3 April 2019 - USA based design-led technology brand, Kew Labs, is today pleased to announce the availability of its K1 portable speaker. The K1 combines a unique and urban design with great sound quality in a compact and portable speaker that is ideal for warmer weather, outdoor parties and travelling. The Kew Labs K1 speaker is available for $38.95/41 in black combined with yellow, red, grey or silver contrast from Amazon and Amazon UK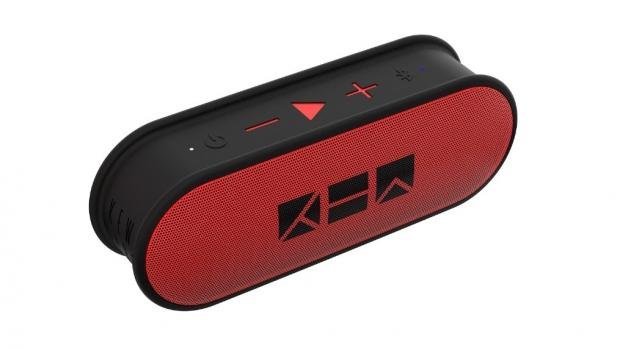 The K1 speaker features 10Ws dual driver speakers to produce a 360-degree audio experience with a balanced bass. Despite its compact size, it is designed to carry no distortion even at its loudest with the two carefully tuned 5-watt drivers delivering effortless clarity. This tuning allows it to suit all genres of music so whether rock, rap, pop or classical is the favoured choice, it will produce a superb sound. The combination of the drivers and the unique rear-facing passive bass radiator creates a natural and evenly distributed sound between front and back so it can be positioned anywhere without impacting on the listening experience.
With a unique design that aims to get away from simple, boring black speakers, the new K1 range of pill shaped portable and light speakers reflects a variety of different styles and aspects of urban life. The metallic silver and gunmetal grey give a classic, industrial look whilst the red and yellow designs are a bolder option; all four of which give a sense of individualism and style. The rubber inlay buttons also match the coloured grills for aesthetics and ease of use to make the K1 an impressive travel companion or complement a home's interior.
Weatherproof against spills and splashes, the K1 has an IPX4 water resistant rating making it ideal to belt out a tune in the shower, take to the pool, beach or even to cope in a sudden bout of rain. This durability makes the speaker ideal for carefree, day to day use and, combined with being small and light, is easy to throw into a bag for a day out. For those who are particularly clumsy or prone to losing things, there is also the option to purchase a protective hard case with extra storage for cables and accessories.

The K1 features a 2,600mAh battery meaning users can continue to listen to playlists for 8-12 hours of constant playtime. The long-life battery makes it easy to pack the speaker on any trips without worrying about the charge and enjoy music all day. With an auto turn off feature, it ensures the battery is saved whilst not paired, and the LED lights signal when the speaker is fully charged to prevent overcharging. The Bluetooth 4.2 speaker also has a 10m range for robust sound connectivity so can be used on a beach, in a garden or around the house without losing connection. If preferred, the K1 also includes a 3.5mm jack for connectivity to TV, laptop and any non-Bluetooth devices.
Also featuring a hands-free calling and conferencing function, the K1 is truly the ideal speaker for using both in the home and when out and about. With an omni-directional mic supporting calls as well as Apple Siri and Google Now voice commands, it is simple to use and produces clear, quality voice audio.
The Kew Labs K1 speaker is available for $38.95/41 from Amazon and Amazon UK in Black/Grey, Black/Silver, Black/Yellow and Black/Red.