PQube (London, UK) - March 28th, 2019 - Today, PQube and developer Digital Crafter are excited to let Fight of Gods ascend from Early Access to Steam. The full version of the notorious fighting game featuring gods, holy spirits and mythological characters from around the globe and throughout history, is now available on Steam!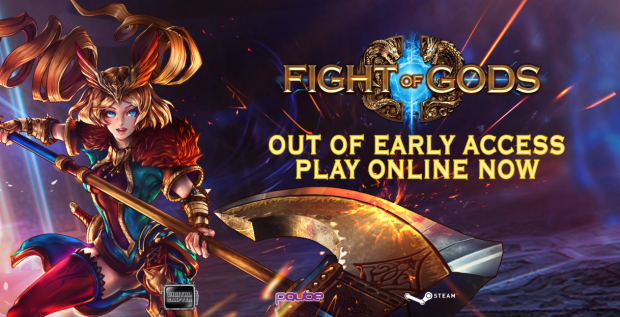 Fight of Gods first made waves when it launched on Steam in 2017 with its unique premise and tongue-in-cheek take on the genre, but since then it's now transformed into a full-featured fighting game. With 13 playable characters (including Jesus, Buddha and Santa Claus), "historical" stages like Mount Olympus, online multiplayer and more, this game is truly divine!
Let the new trailer enlighten you:
Literally epic characters!
Settle humanity's longest ongoing discord once and for all with Fight of Gods' growing roster of deities. Duke it out with 13 righteous competitors, including Jesus, Moses, Buddha, Zeus, Santa, Athena and most recent newcomer Freyja, the Norse goddess of love and war!
Legendary stages!
Have you ever seen Odin give Anubis' face the Sphinx treatment whilst visting the North Pole? The Garden of Eden, Gladsheim, Olympus, the Valley of Asgard are just some of the places worthy of this incomparable clash.
All game modes a fighting game needs!
Take part in the most almighty of clashes in Arcade Mode, practice your combos in Training Mode and face fellow friends or foes Offline or in Online Versus Mode.
Last updated: Sep 25, 2019 at 05:39 pm CDT